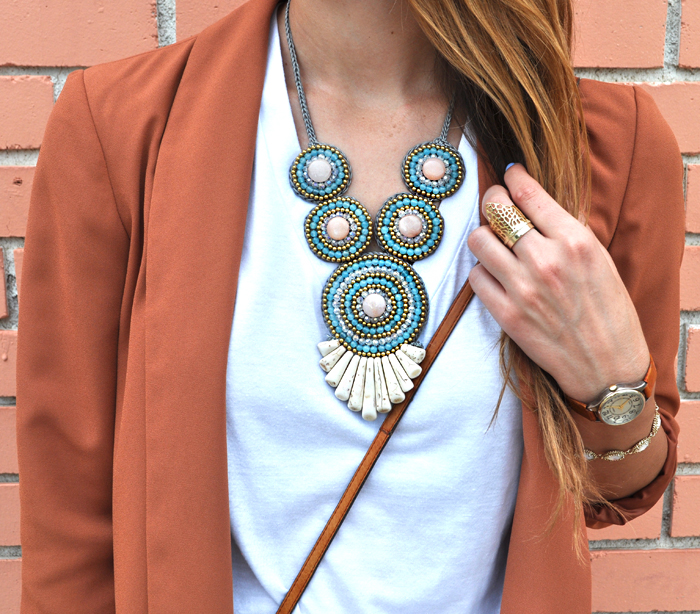 A few weeks back I was given a Visa giftcard (aka best day ever), so the first thing I did was purchase a frivolous item (well, of course!) – thus, I trekked over to Last Call Neiman Marcus and went to my favorite section…jewelry! I spotted this amazing Panacea bib necklace in quite a few colors and miraculously narrowed it down to the one featured in this outfit post.
necklace – panacea, blazer – forever21 or orange from nasty gal, shirt – river island, shorts – gap, shoes (similar) – nine west, earrings – open sky, watch (similar) – urban outfitters, bracelet –kendra scott, crown ring – kendra scott, pearl ring – kendra scott, purse (similar) –hobo, nail polish – essie
After careful consideration, I decided to style this necklace with a colorful blazer and a slouchy tee, along with some fabuousmid-wedge sandals and my go-to boyfriend shorts. As you can see, I'm all about keeping my outfits cool and casual, and it's fun to rock a stylish and unexpected combination like a blazer with denim shorts. If you work in a business casual (err..very casual) setting, this look may just be the outfit inspiration you've been searching for! If this look is too casual for your liking, swap the shorts for skinny jeans. BAM! Miranda Kerr approved! (She's the queen of sexy skinnies & blazer combo in my opinion).
I am an accessories girl through and through, and I like to mix up my watch routine depending on my outfit and mood. This precious leather band watch (see similar here) is a great layering piece with my Kendra Scott Jana bracelet, and ties in the brown leather from my shoes and bag – perfection! As for my rings, I wore my favorite gold crown ring, this dainty heart ring and a pretty pearlescent ring, too.
Hopefully you were able to get in some good rest & relaxation this weekend! If you want to keep up with my weekend happenings, be sure to follow @livvylandblog on Instagram!
Stay tuned,
Livvy
A few weeks back I was given a Visa giftcard (aka best day ever), so the first thing I did was purchase a frivolous item (well, of course!) – thus, I trekked over to Last Call Neiman Marcus and went to my favorite section…jewelry! I spotted this amazing Panacea bib necklace in quite a few colors and miraculously narrowed it […]