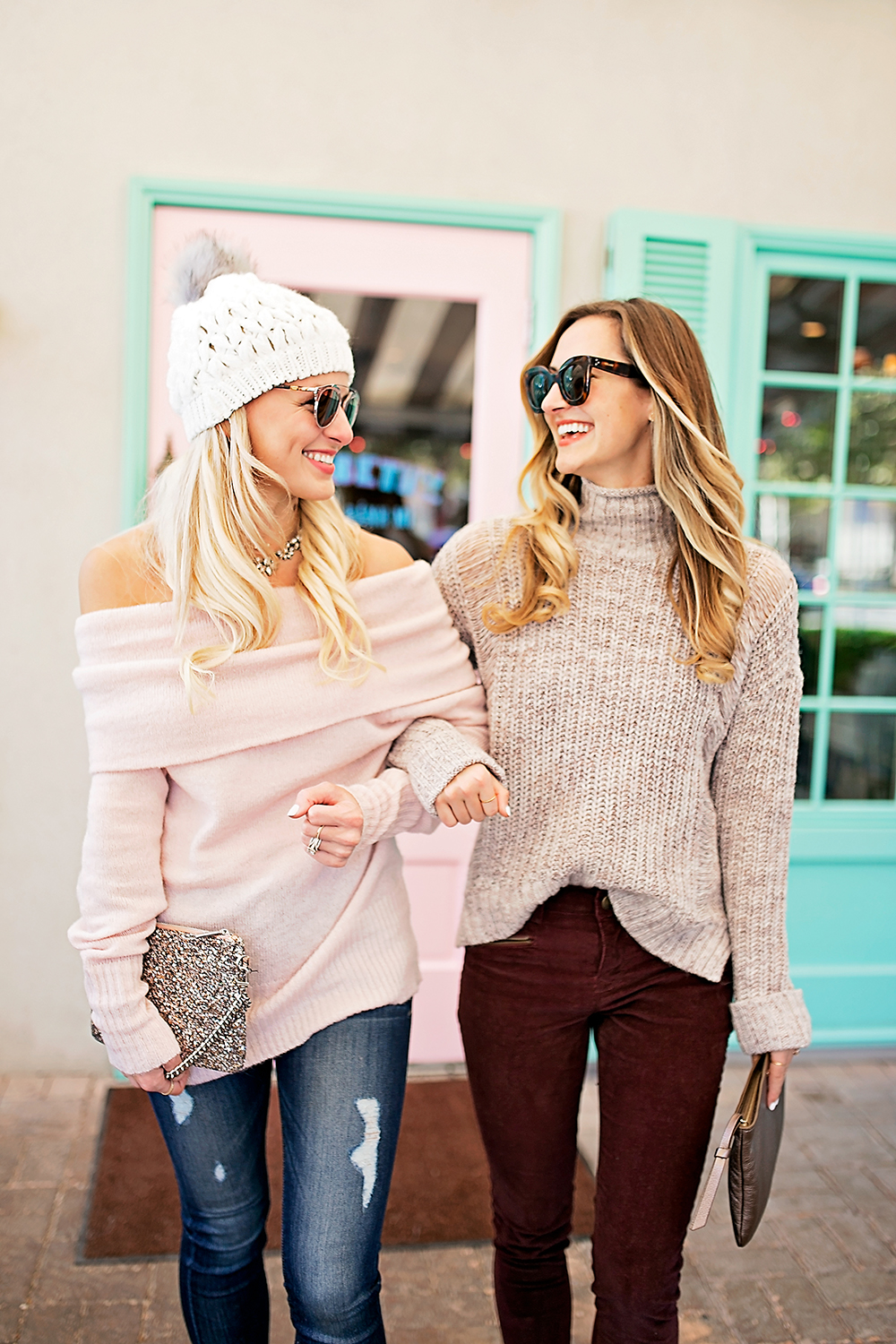 If there's one thing I love about the holidays, it's that I get to spend more time with my out-of-town friends! It has sort of become one of those unexpected holiday traditions I look forward to each year. (When you're younger, you don't exactly look ahead and think half of your friend crew will move away one day!). Thus, this particular time of year is dear to my heart given that we get to spend some quality time together! One of my very best friends, Lauren of Vandi Fair, came into town last week with our fellow galpal and photographer, Angie, so we all met for a coffee & pastry date at the darling Elizabeth Street Cafe. I'd been dying to go here for quite some time, and after picking out some cozy sweaters in the prettiest pink hues from Express, we knew a powder pink and teal coffeehouse was the perfect spot for a catchup sesh…and of course some photo opps while we were at it! 😉
Psst…both our outfits are on MAJOR sale this weekend because Express is having an awesome Cyber Monday Sale (…that's already in full swing!)…Y'all, 50% off everything!! If there's any time to load up on cozy sweaters and knits, it's most definitely today!
**Photos by Angie Garcia Photography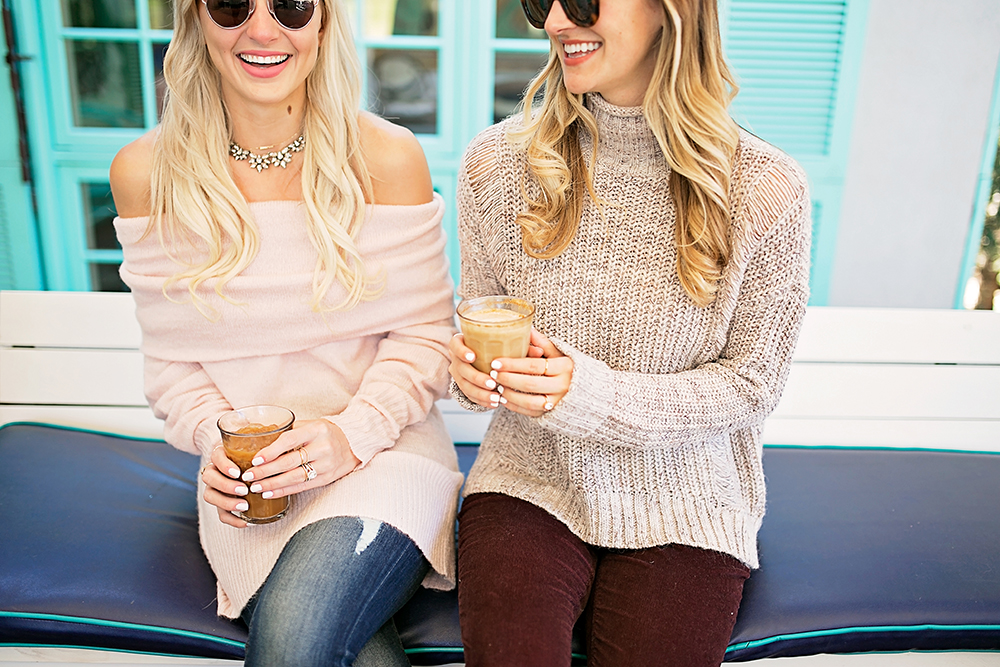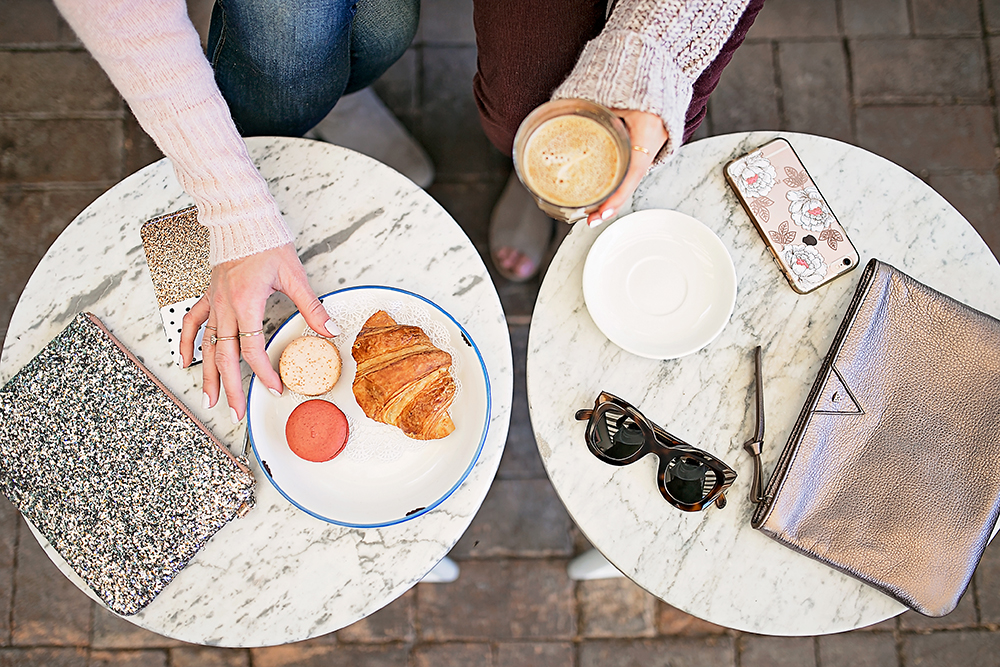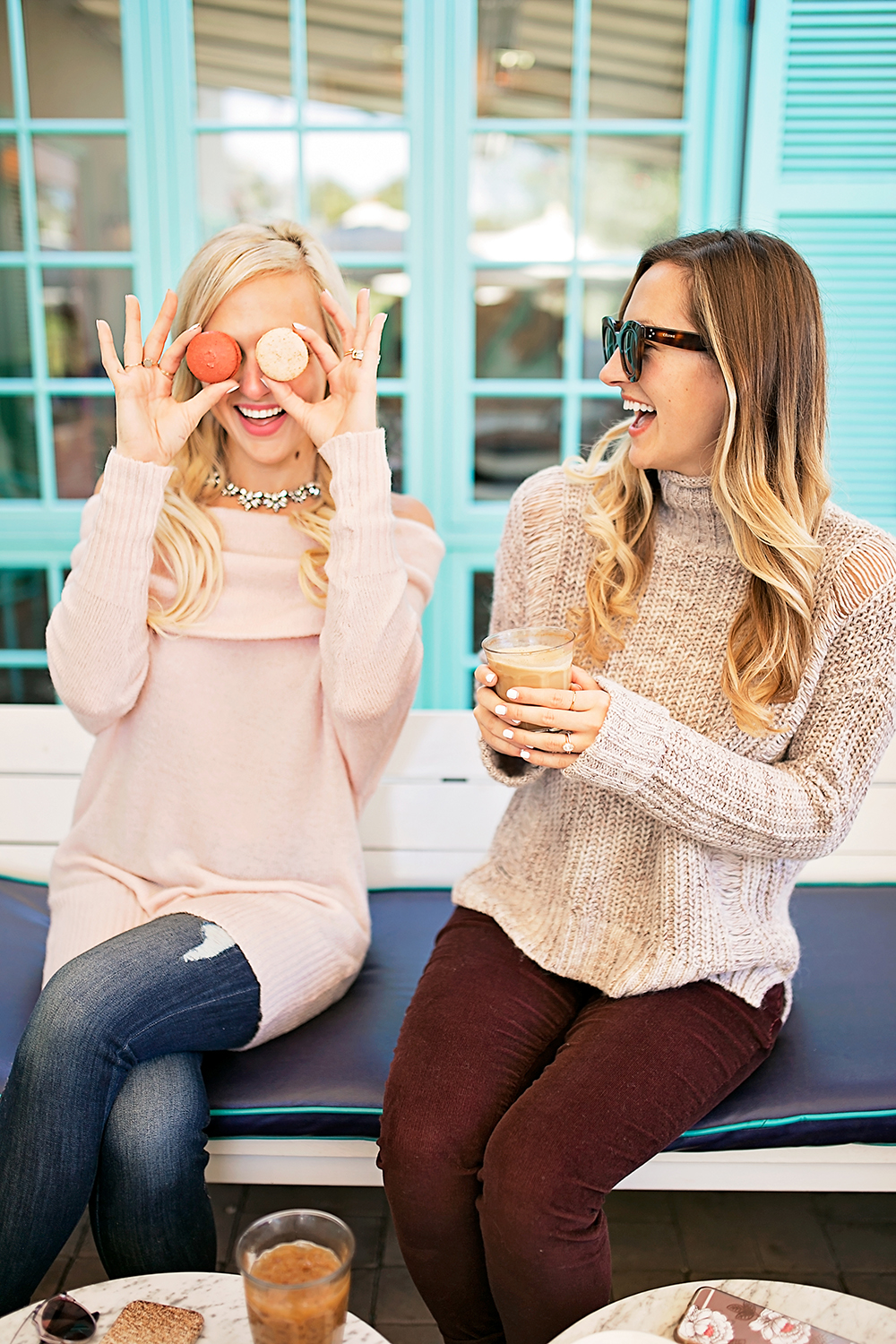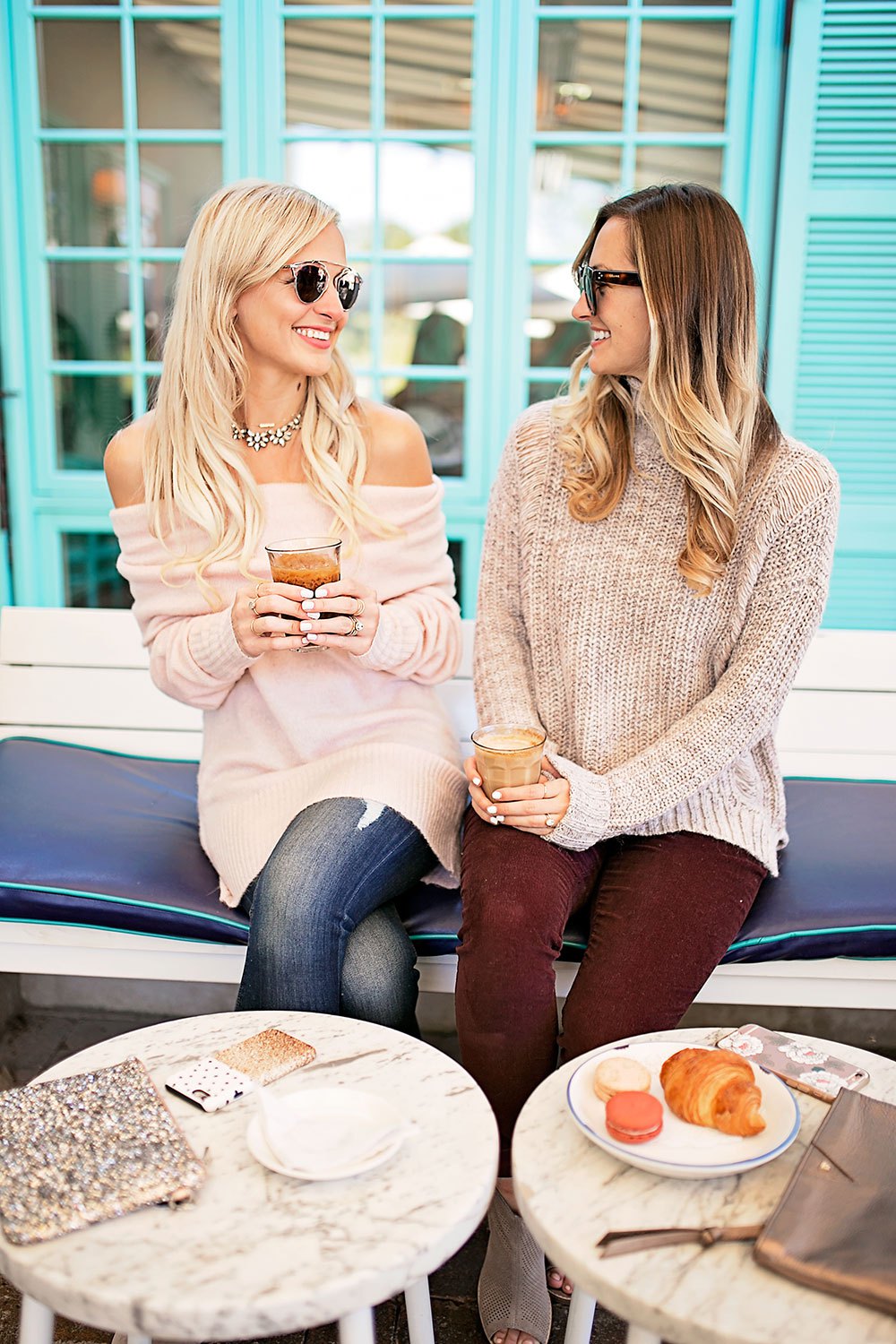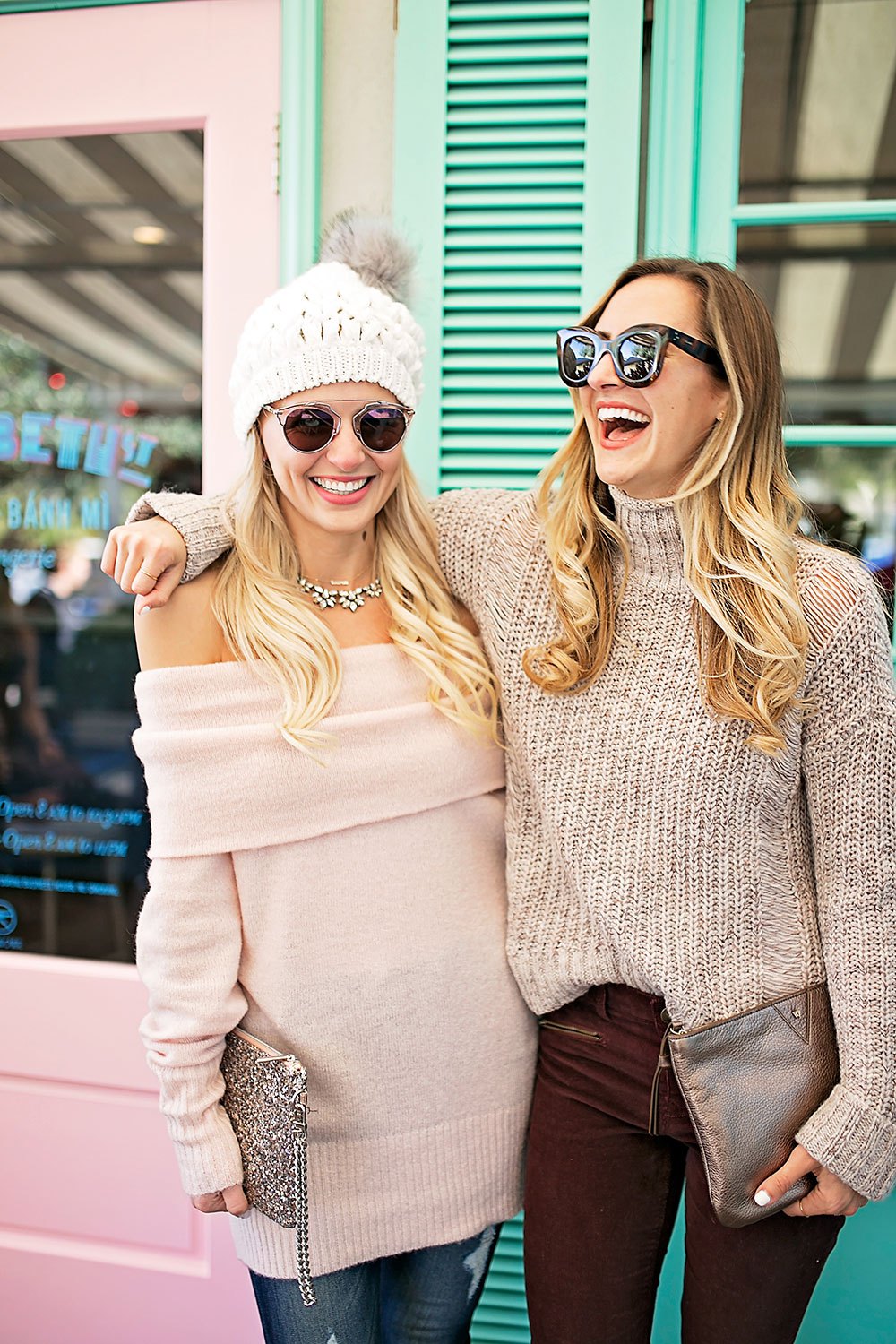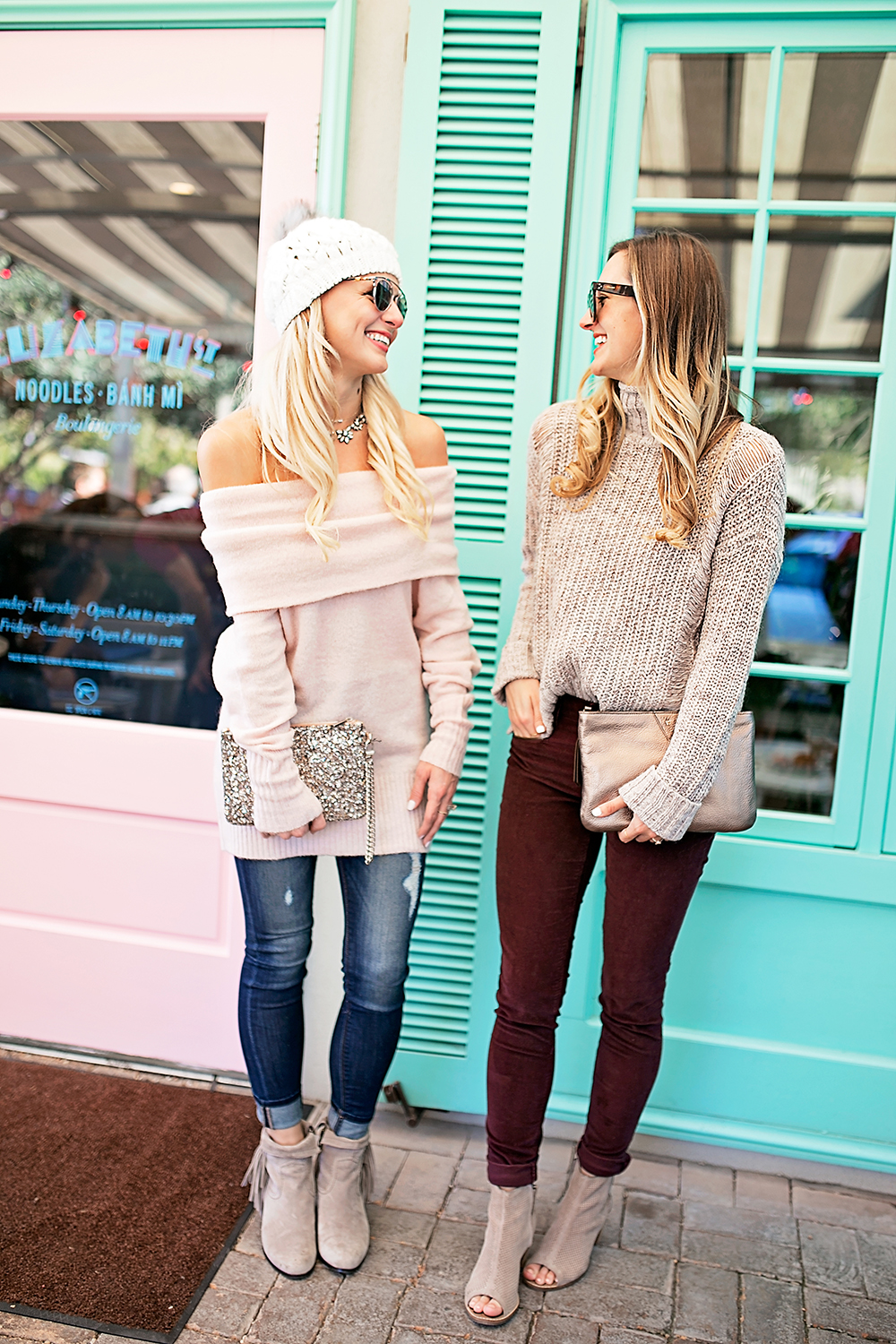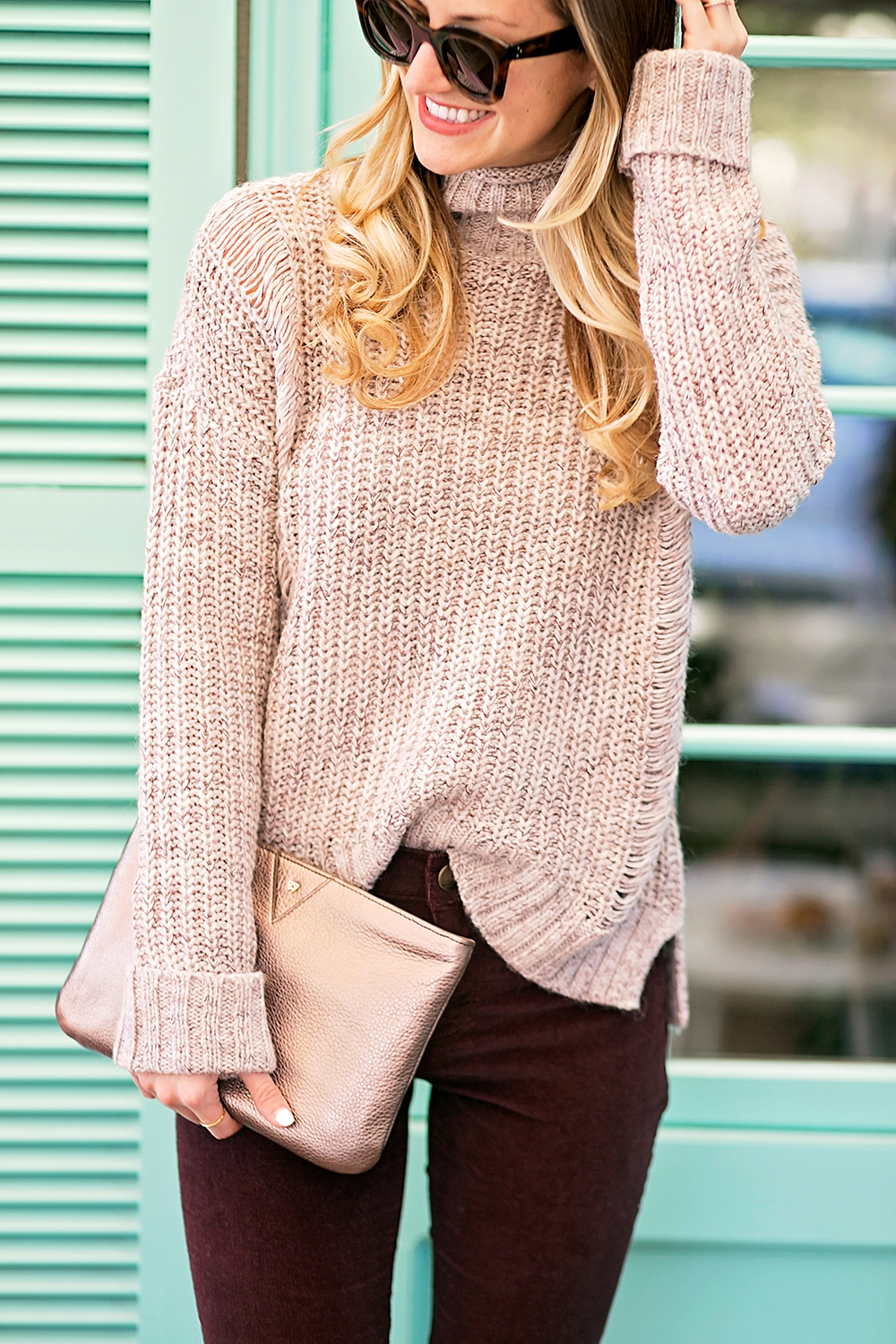 For those of you new to LL, the love story that is "Livvy & LV" goes waaay back! We met while working alongside one another in marketing at Kendra Scott nearly three years ago (no really…we smushed our desks together and literally worked side by side for two years, ha!) and we started our blogs at the same time! True story: we would run out on our lunch breaks and go shoot future posts for one another (…hey, ya gotta do what you gotta do when there's only so much daylight, ha!). Our lives seemed to parallel one another from then on – we were both single at the same time (and yes, we totally would gossip about our Tinder dates the next morning at work haha ah!), we both left KS at the same time to pursue new endeavors (…and our new jobs actually started on the same day, but in different cities!), we both got back together (and then married!) our high school (me) or college (LV) sweethearts, and through it all we've been the best of friends and each others cheerleaders in the blogging world and in life. As I've touched on before, blogging is a wonderful yet challenging career (super vulnerable, easy comparison bubble, etc.), so it's been particularly amazing to have someone like Lauren that I can call in a moments notice and know she'll understand how I'm feeling and always be such a sweet friend and wonderful support system. Good girlfriends are the absolute best, and friendships like this one are something I cherish more and more as I get older!
When it comes to our styles, Lauren is definitely more girly, glam and colorful, while I generally gravitate towards earth tones and neutrals, with the occasional color pop here and there. Hence our outfits here! The best part about Express (…aside from the amazing price points) is that they carry an array of sweaters and jeans (…and dresses, skirts, etc. 😉 ) to suit every style! Lauren's off shoulder top is seriously SO pretty and cozy…I honestly wish you could feel it because it's THAT soft. So cute with distressed denim and an adorable beanie!
I opted for a classic knit turtleneck in the prettiest maroon-y, oatmeal color that paired beautifully with THE cutest corduroy pants!! Truly, if you're on the hunt for the perfect pair of cords this season, THESE are for you! Order one size down because they run big!
Do you have any holiday traditions with friends? If it's not a coffee date, you can find my friends and I sipping yummy spiked eggnog at a cozy bar downtown.. lots to look forward to during this time of year!
Shop our outfit details (hooray S A L E S) below!
SHOP MY LOOK
SWEATER / CORDUROY PANTS / SUNGLASSES (similar) / METALLIC CLUTCH (similar) / TAUPE BOOTIES (similar)

SHOP LAUREN'S LOOK
OFF-SHOULDER SWEATER / DISTRESSED JEANS / BEANIE / BOOTIES (similar) / GLITTERY CLUTCH / SUNGLASSES (similar)

A big thank you to Express for sponsoring this post! All opinions are my own.