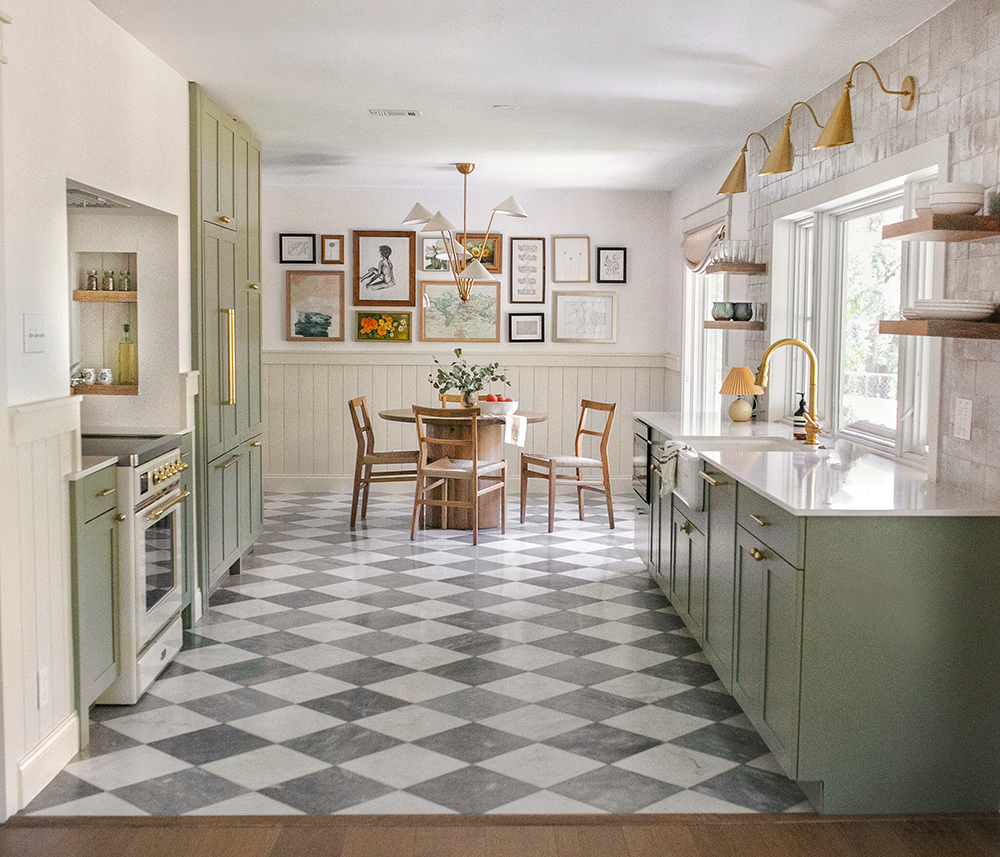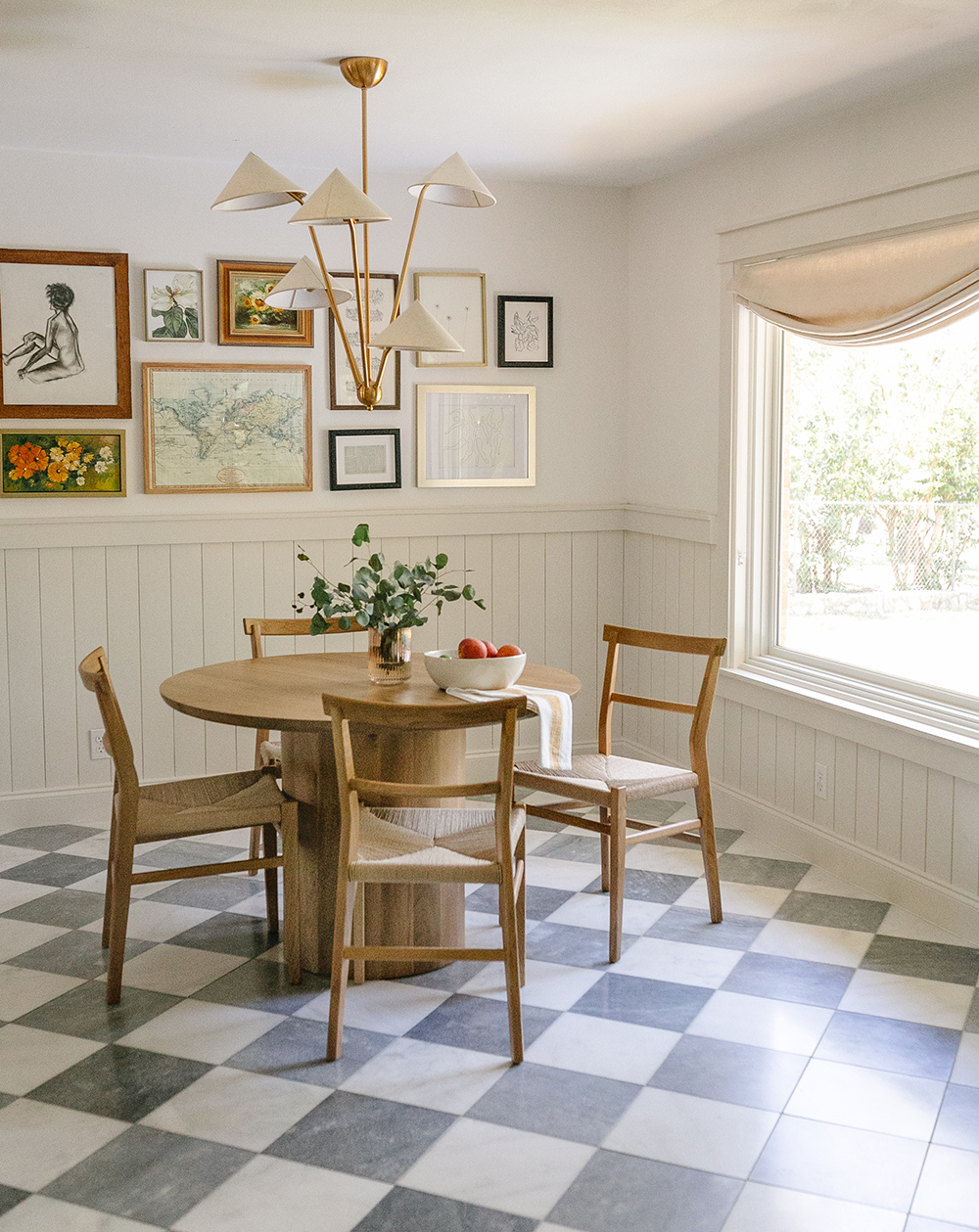 Ohh goodness, where do I even begin with sharing our kitchen reveal? If you're a longtime follower, you know that this renovation has been happening behind the scenes for more than two years. Blood, sweat, tears – so many tears, haha! When Blake and I bought this house in 2020, we knew it was a project. It wasn't a "one tour and we knew" sort of thing. It was a "we will have a newborn and a toddler and a house that needs every inch redone" type of thing. I remember after touring the house for the third time (yes, third) and we were standing on the back patio (amidst nearly an acre of bushes and overgrown plants…and 45 incredible oak trees – the yard sold us on the house) when we finally took a deep breath and said, let's do this. Almost exactly two years later, we have completed our first space in the house – the kitchen of my dreams! Beyond excited, nervous, all the things to share it with y'all today. So without further ado, welcome to our cozy, french countryside-inspired kitchen…
For context, here are some before photos…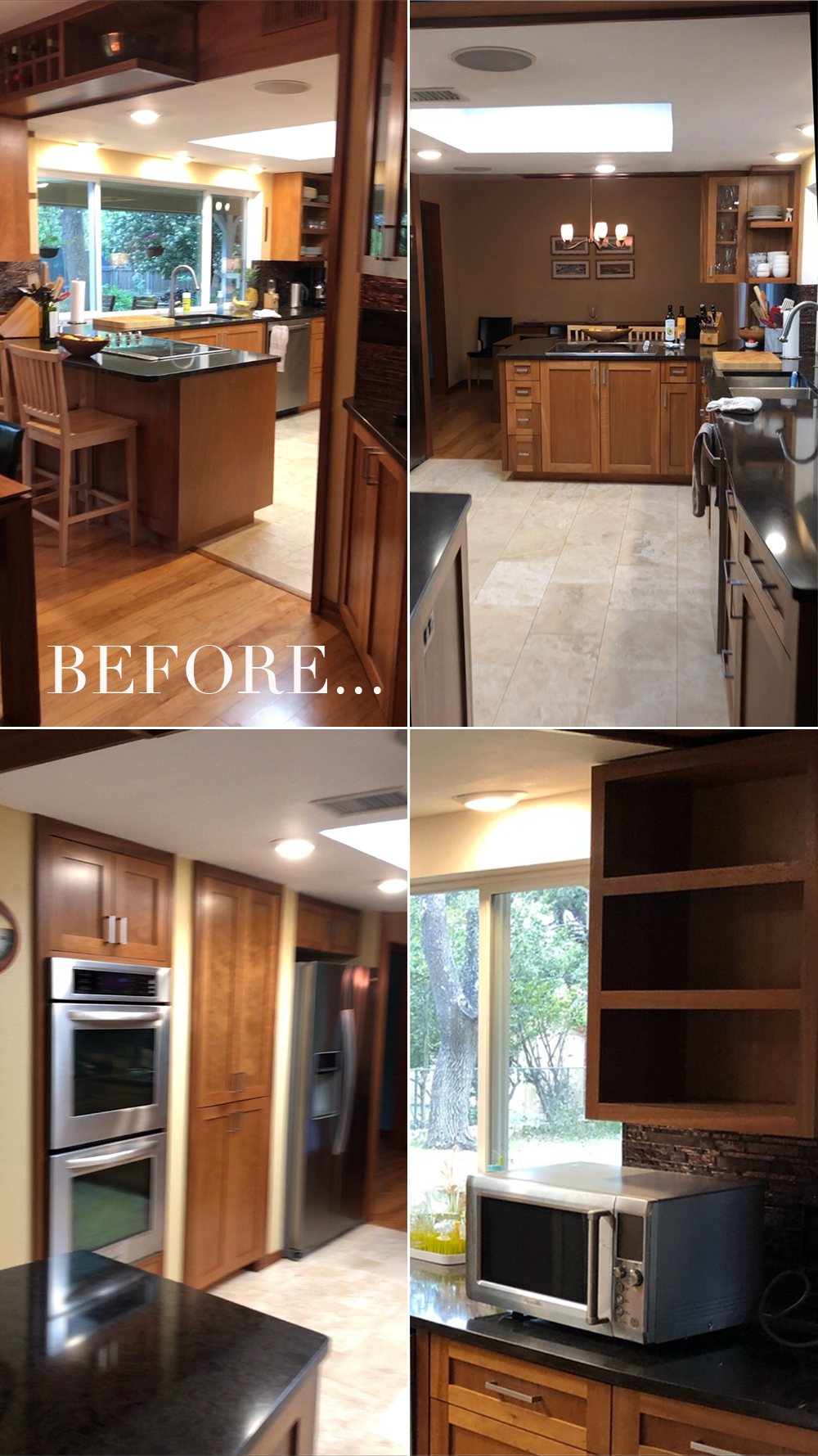 Let's discuss! Things that I really wanted in a kitchen: bright and airy, easily accessible, a standing oven/stove range, built in microwave, a raised ceiling, did I mention bright and airy? 😉 After spending months on Pinterest and scouring interior designer Instagram accounts, we finally nailed down the perfect new layout, called a "wide galley kitchen" that would encompass all of our non-negotiable's. Oh yes, and we changed everything.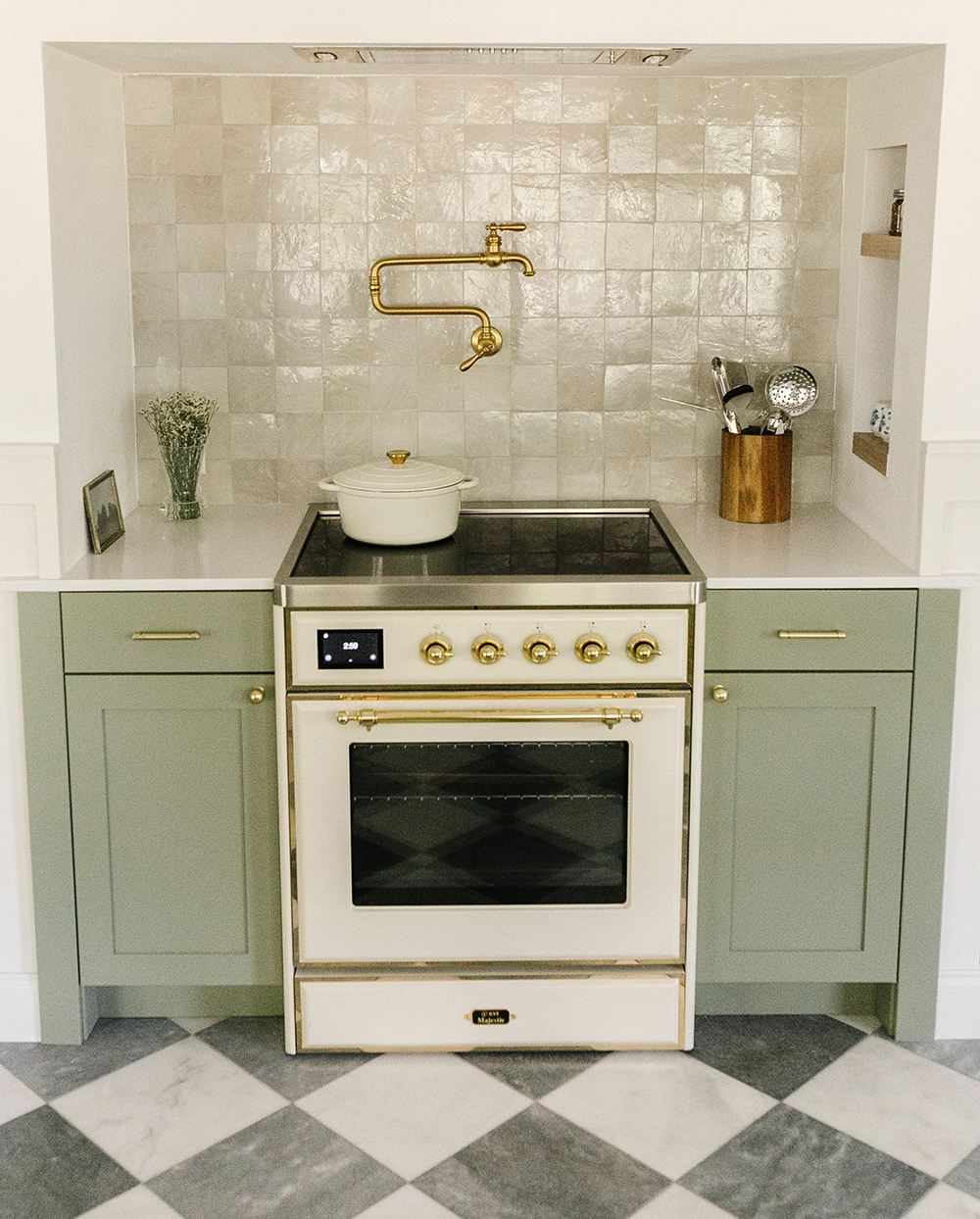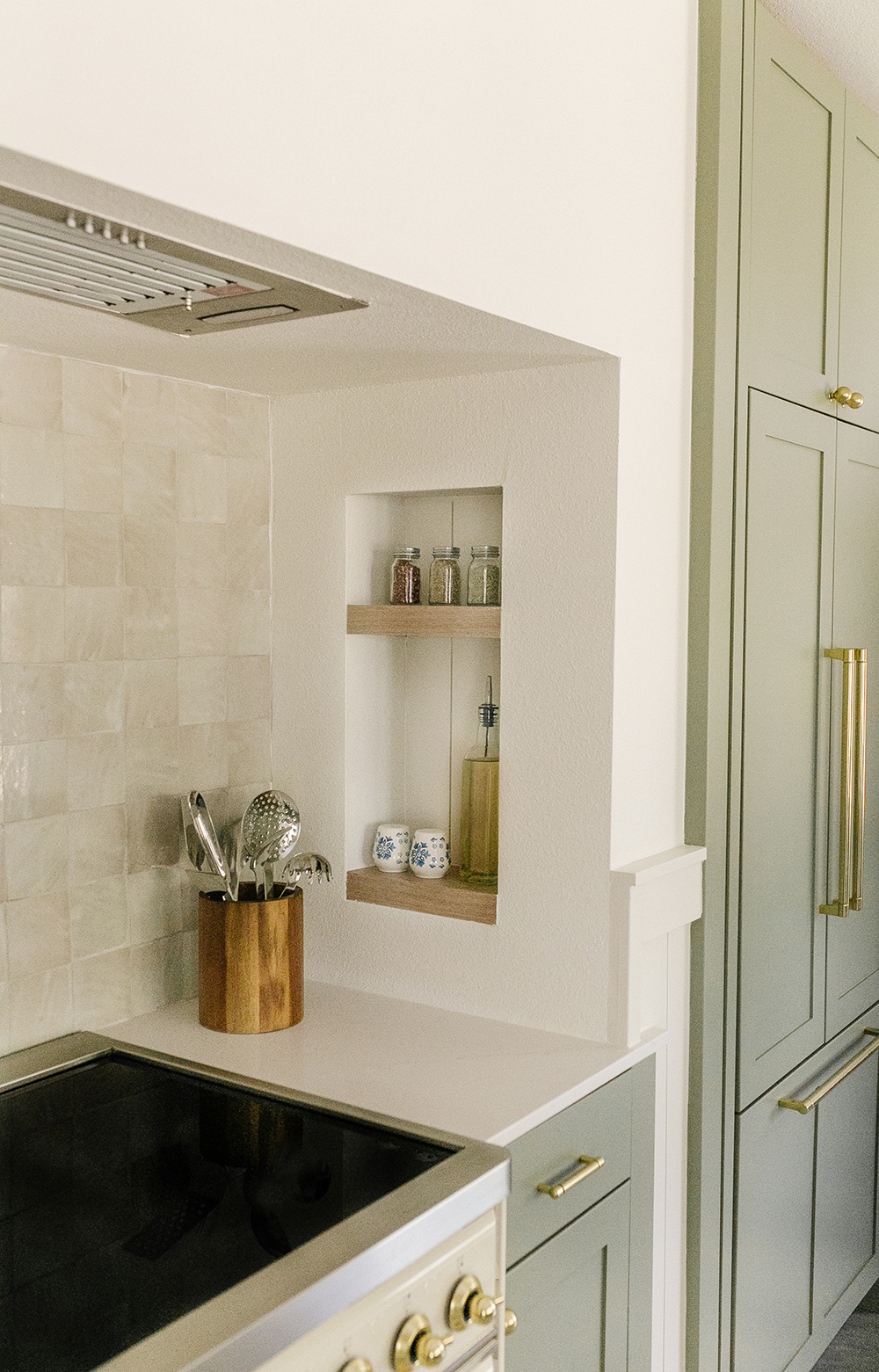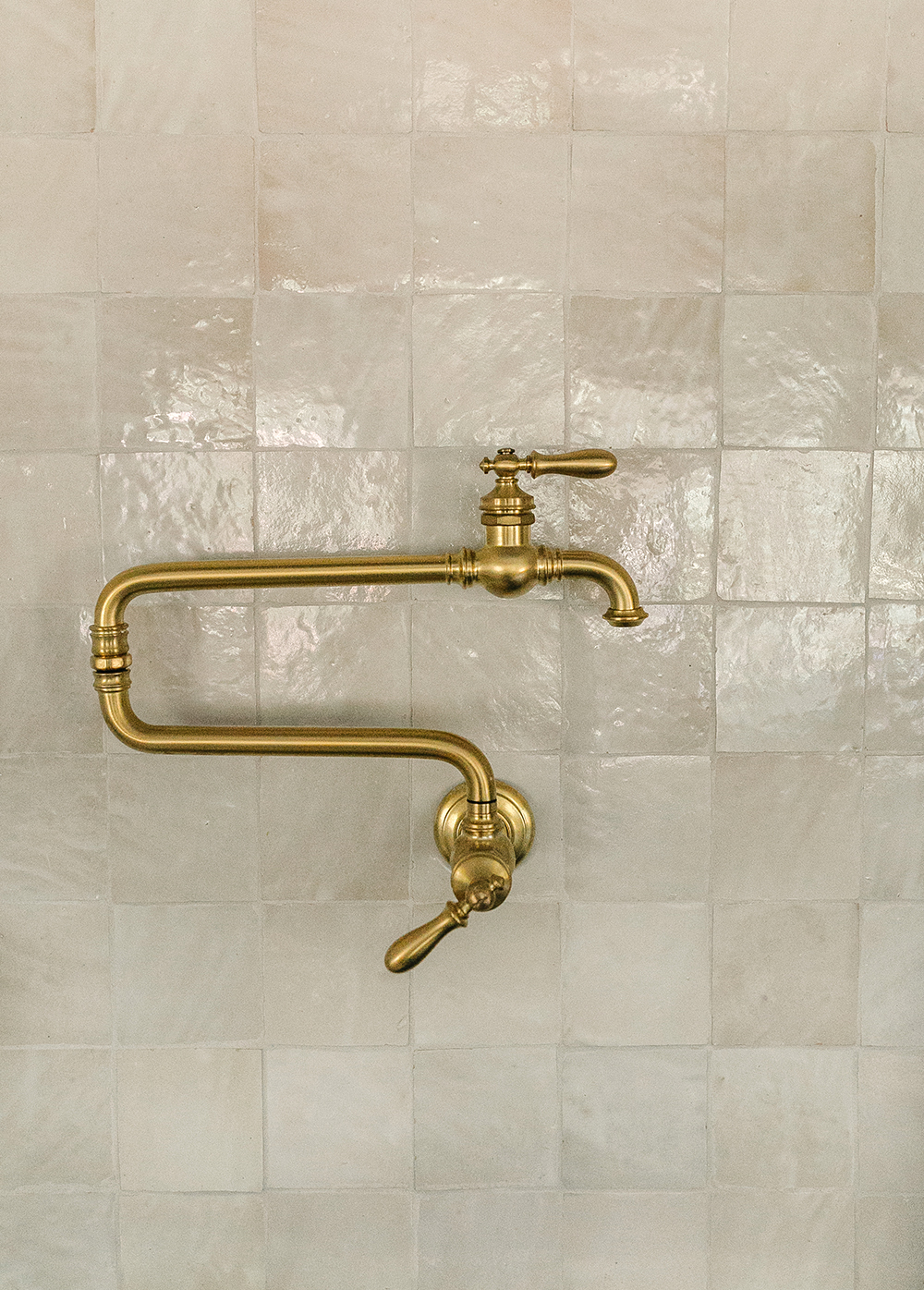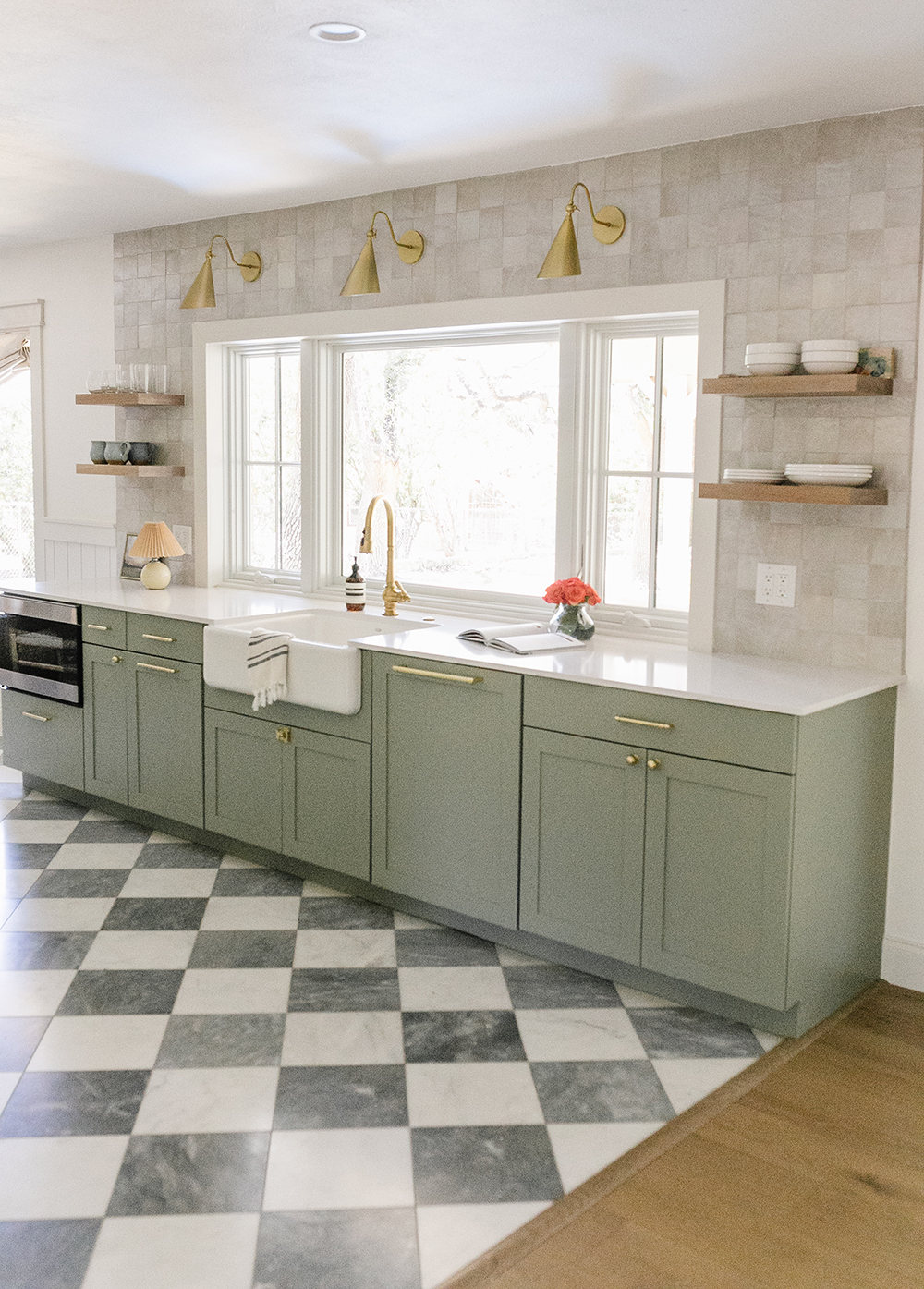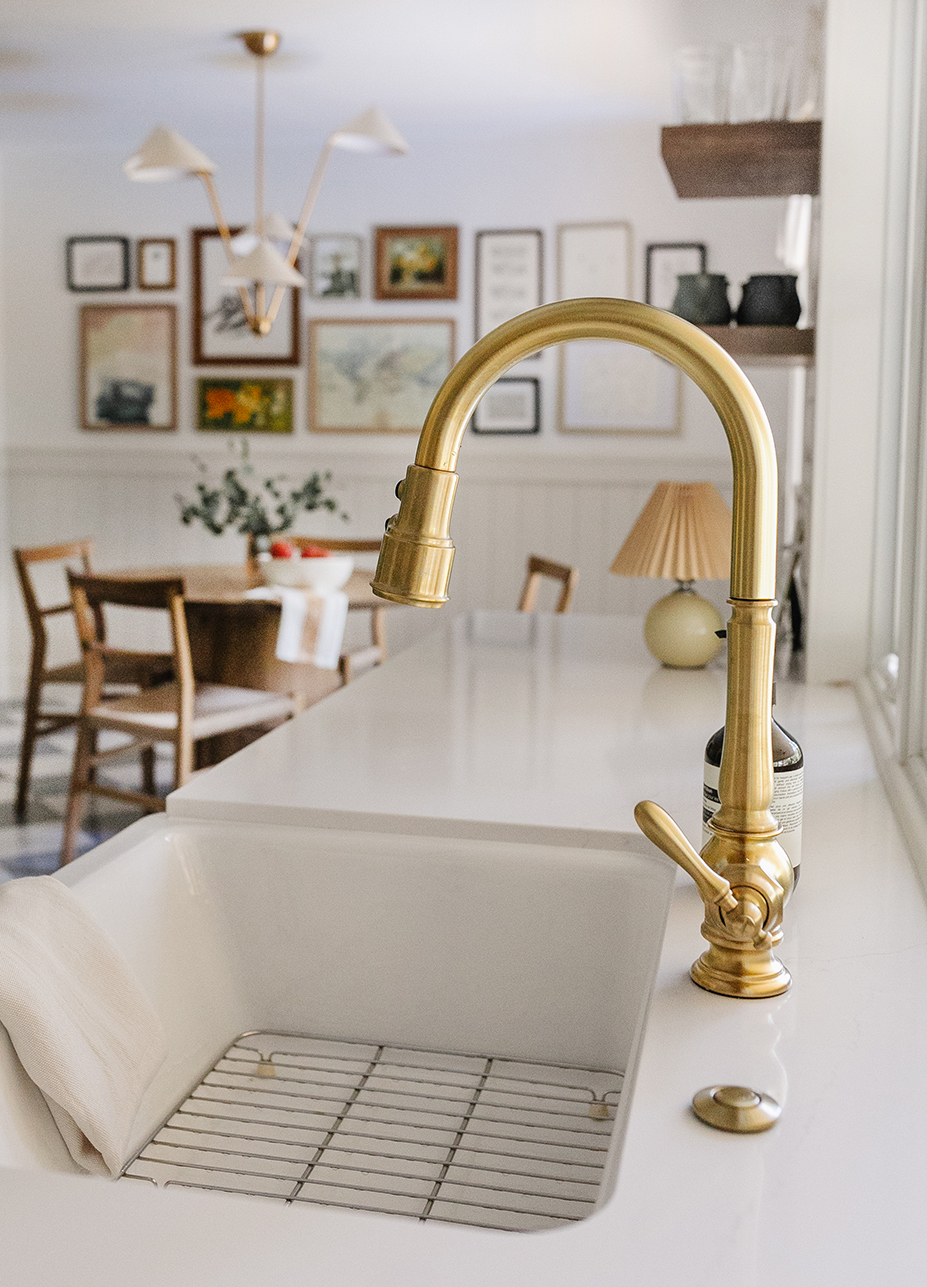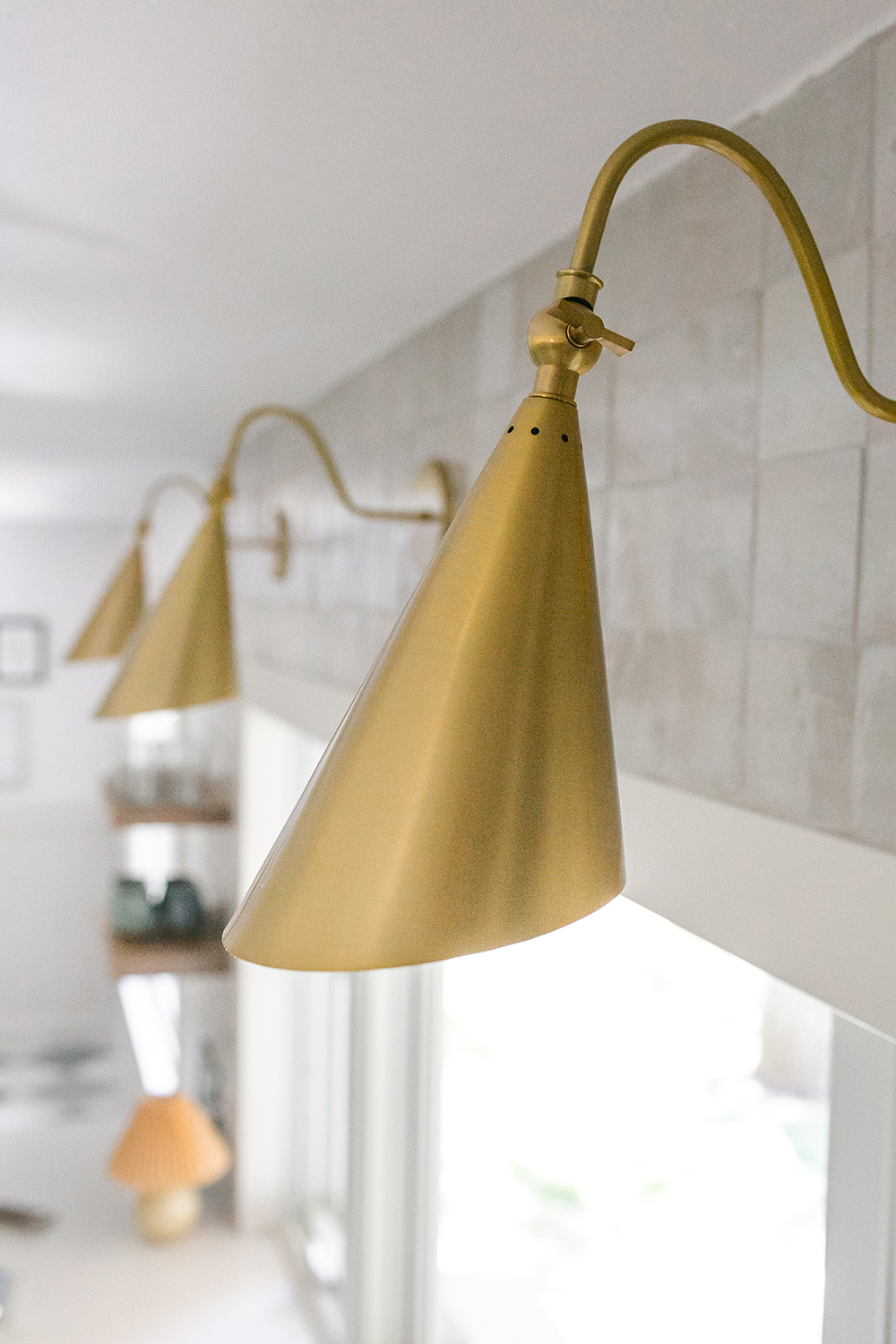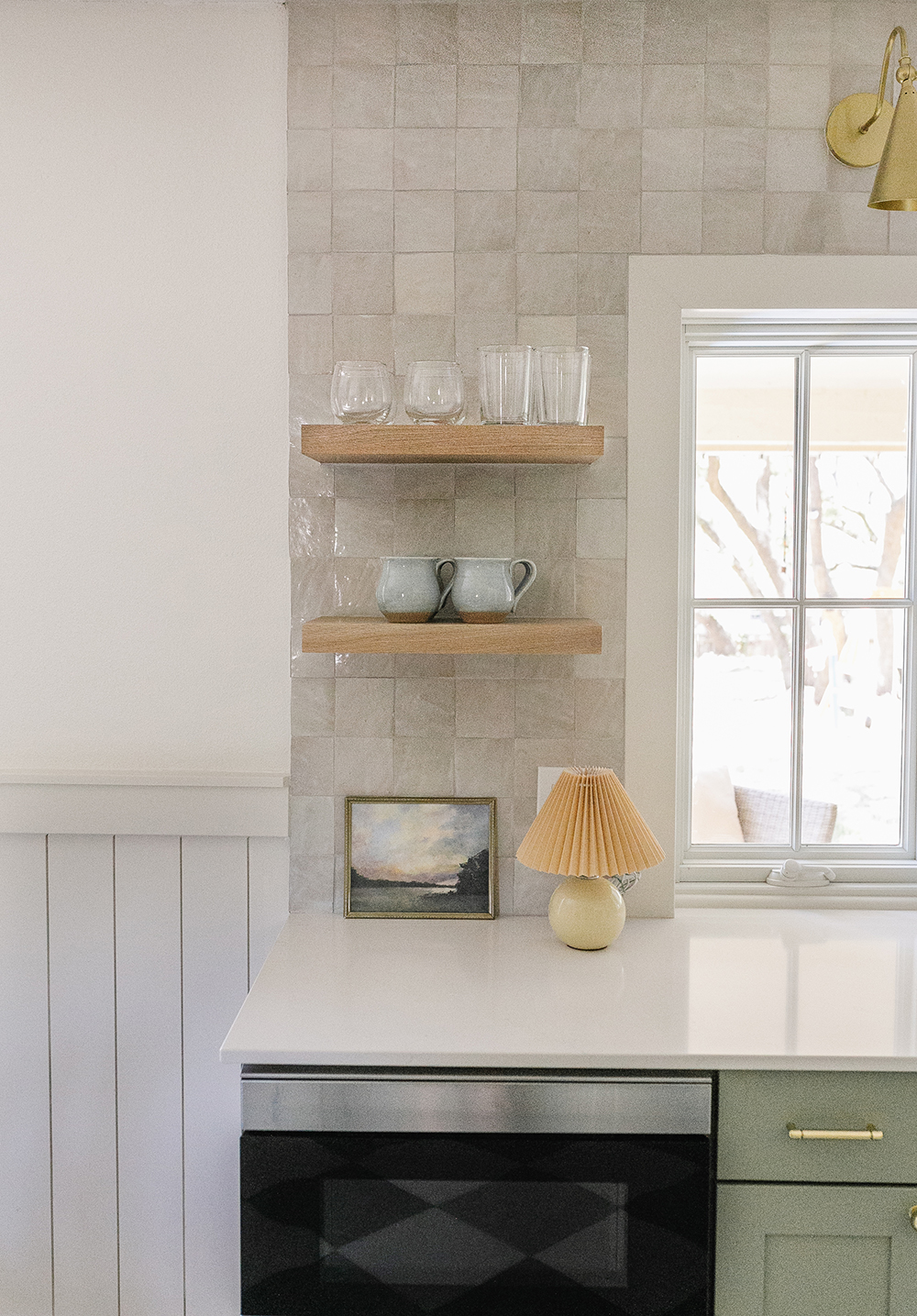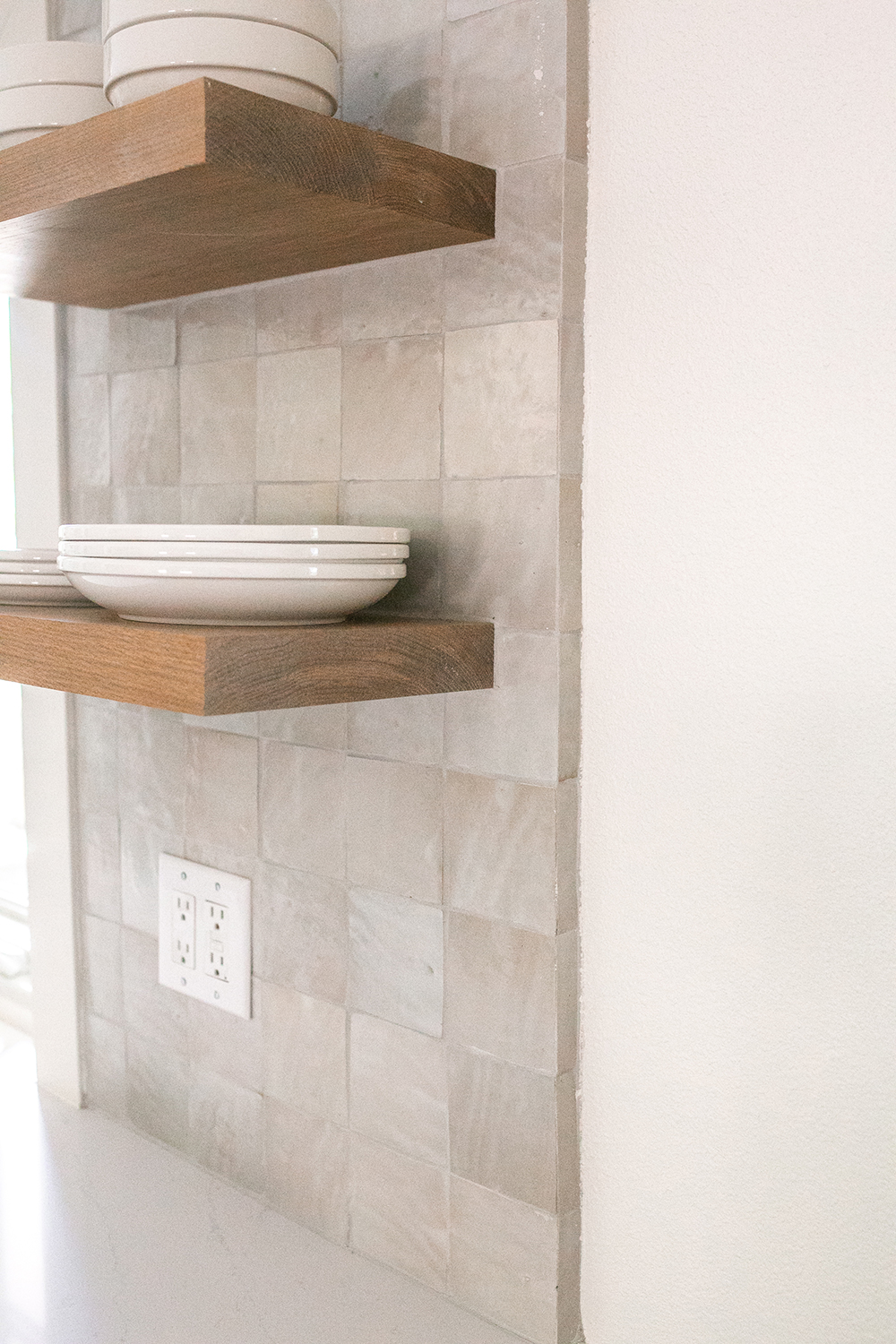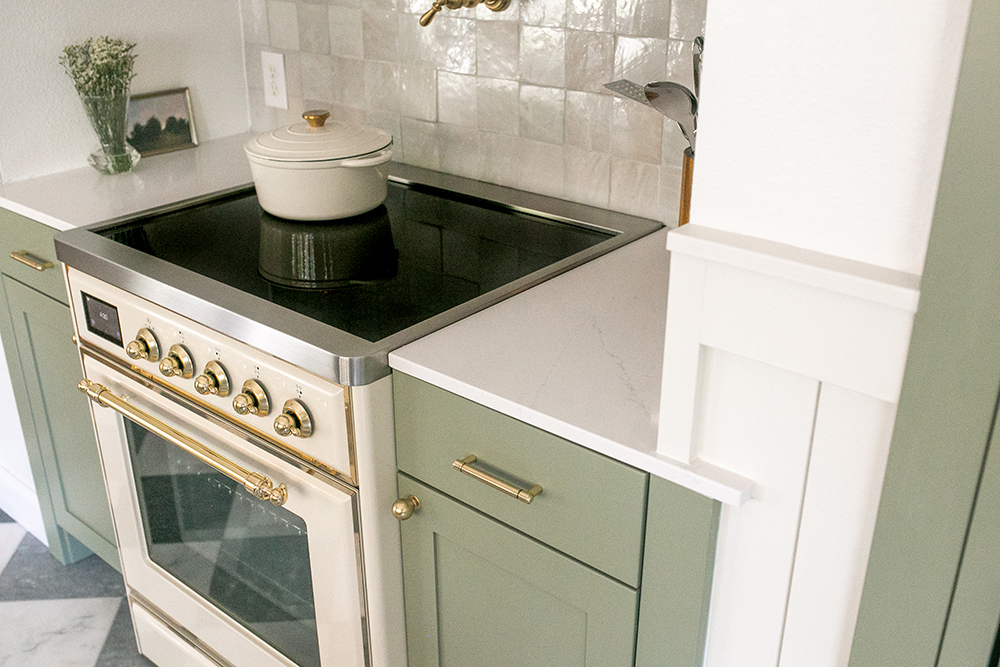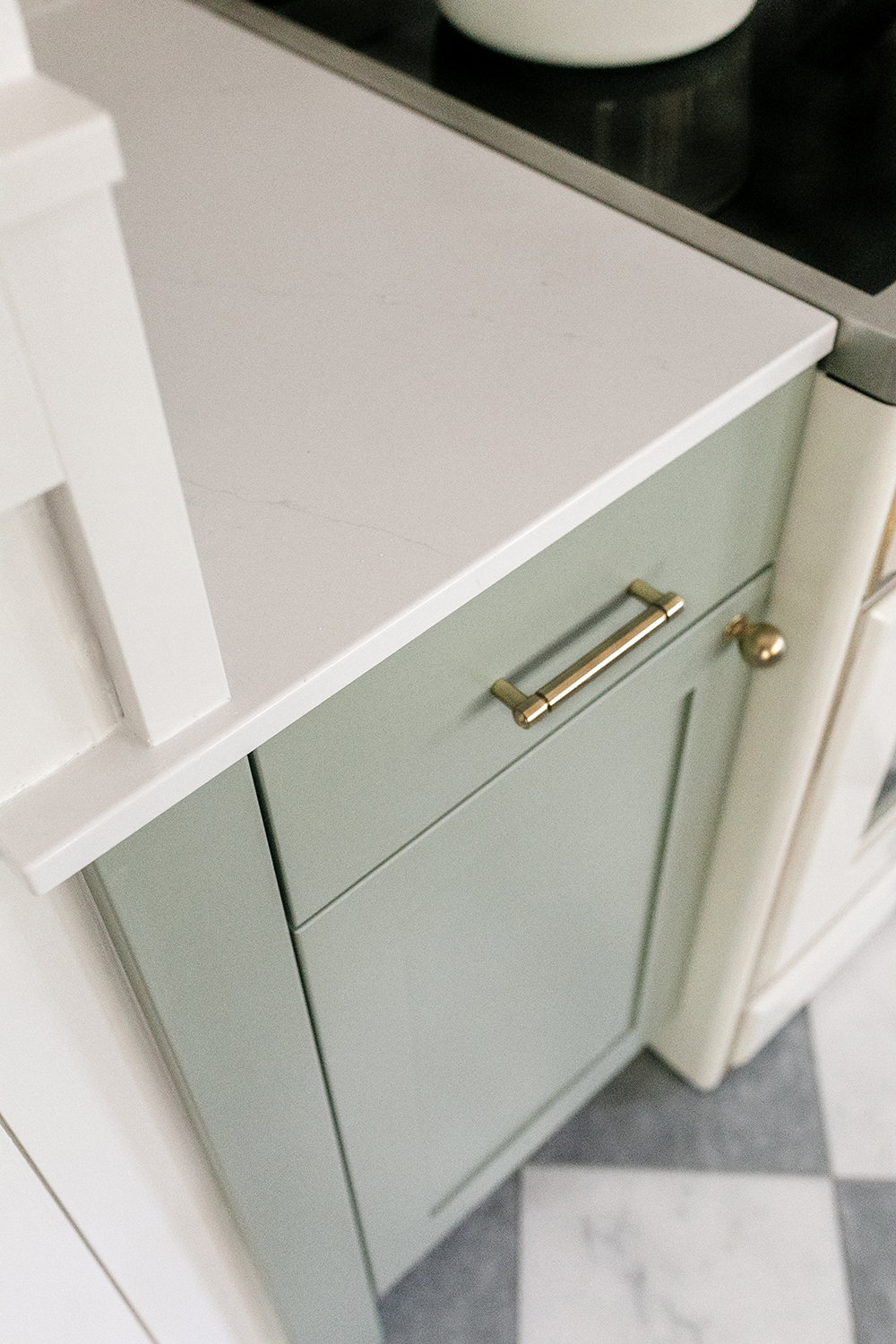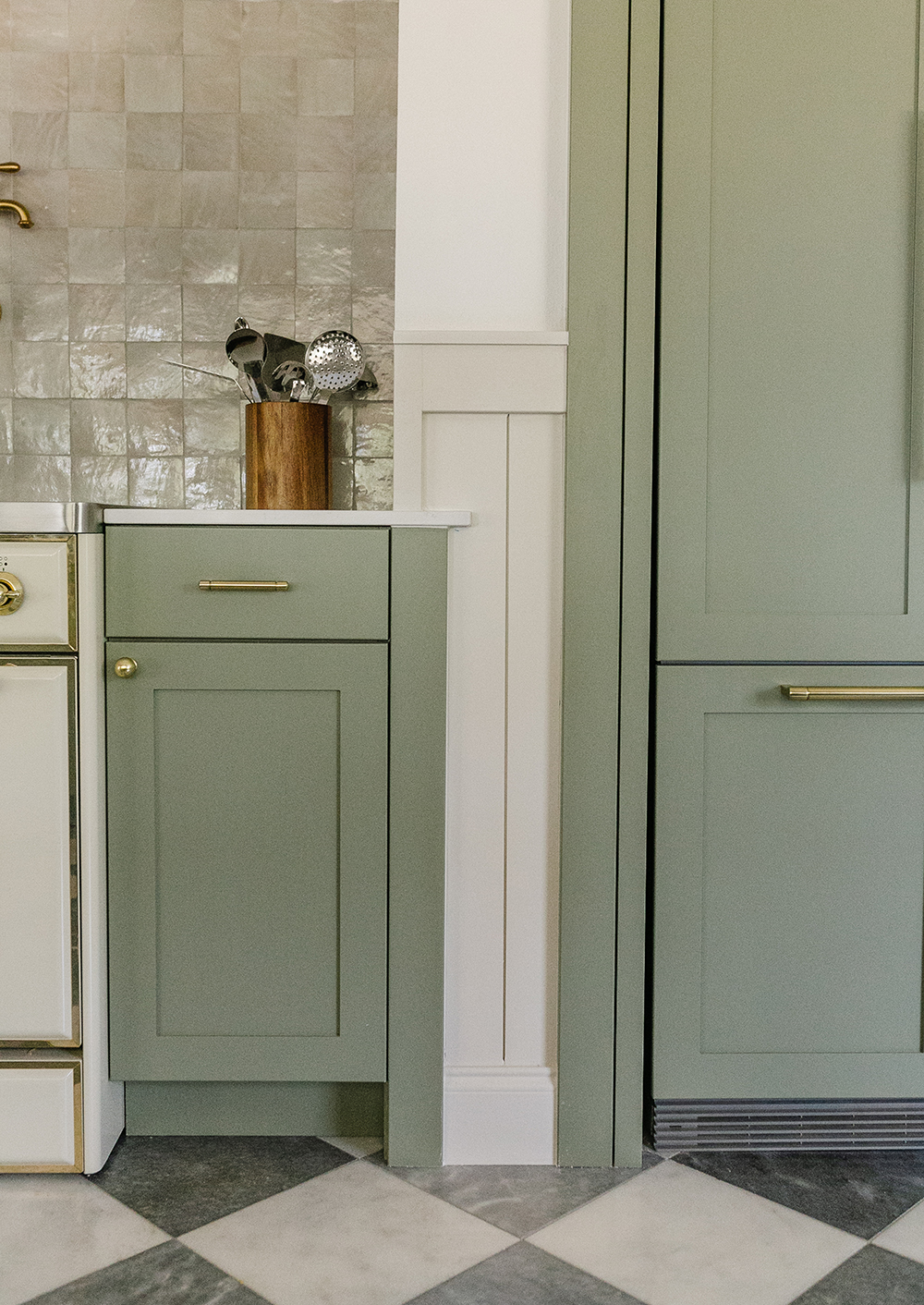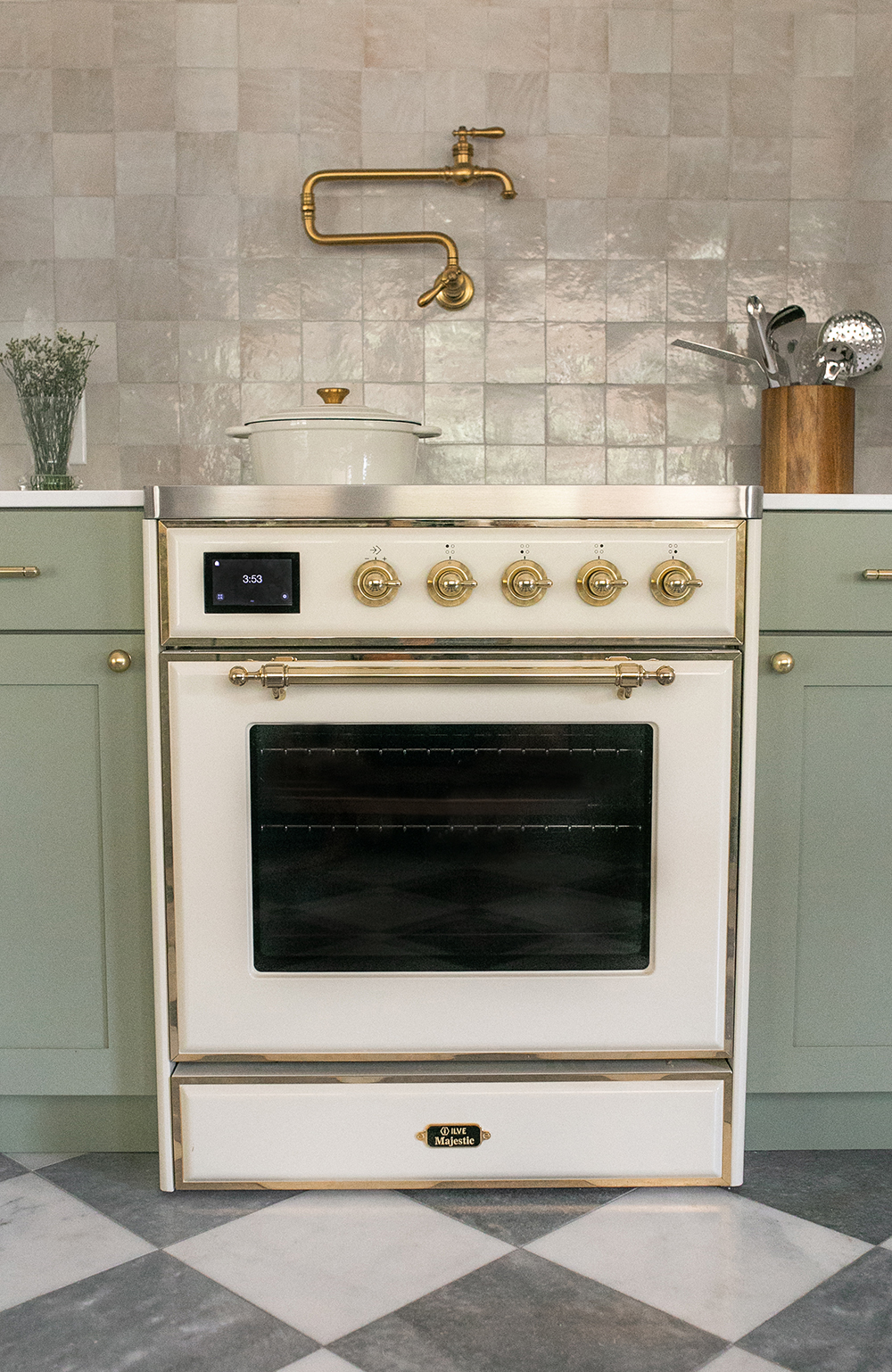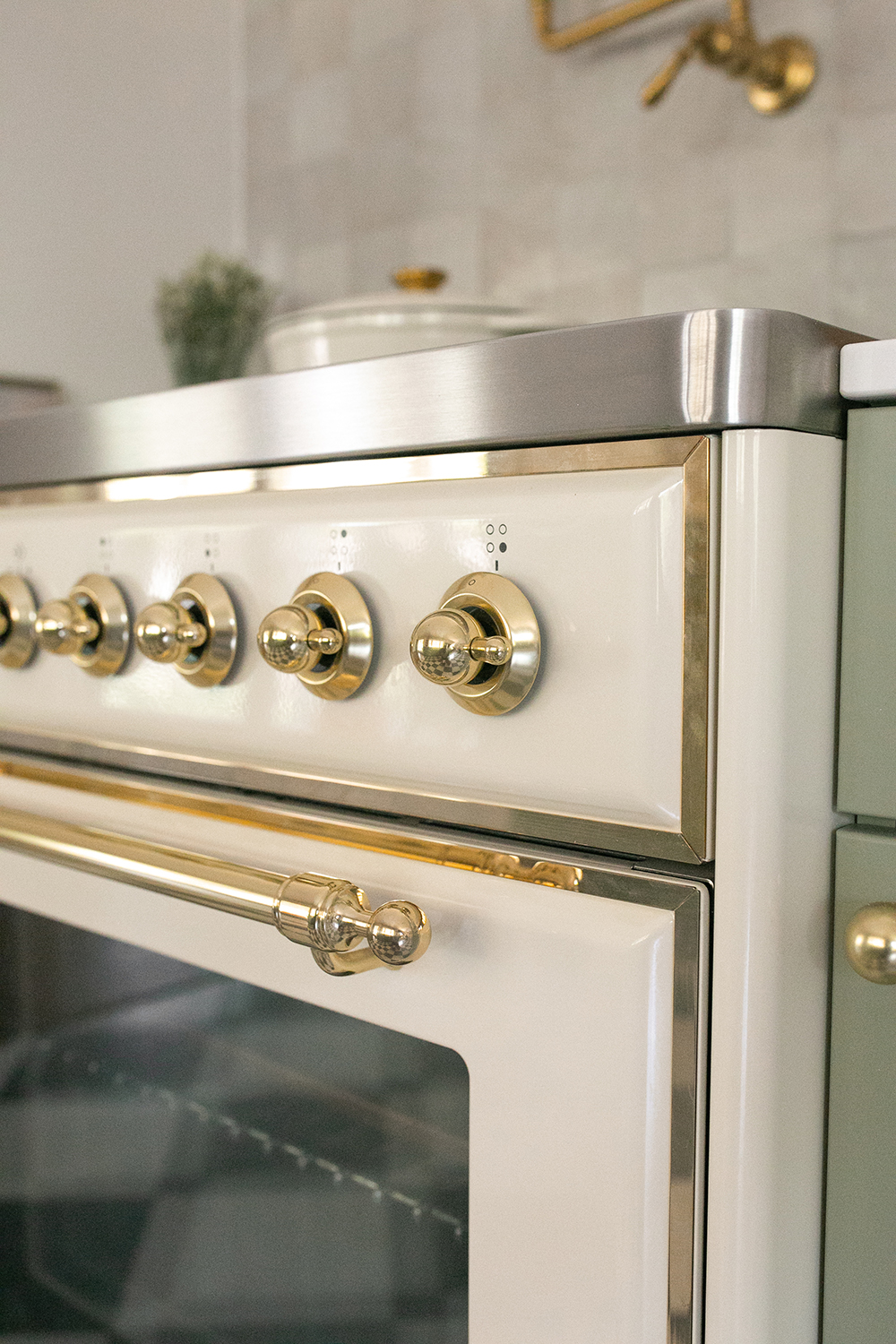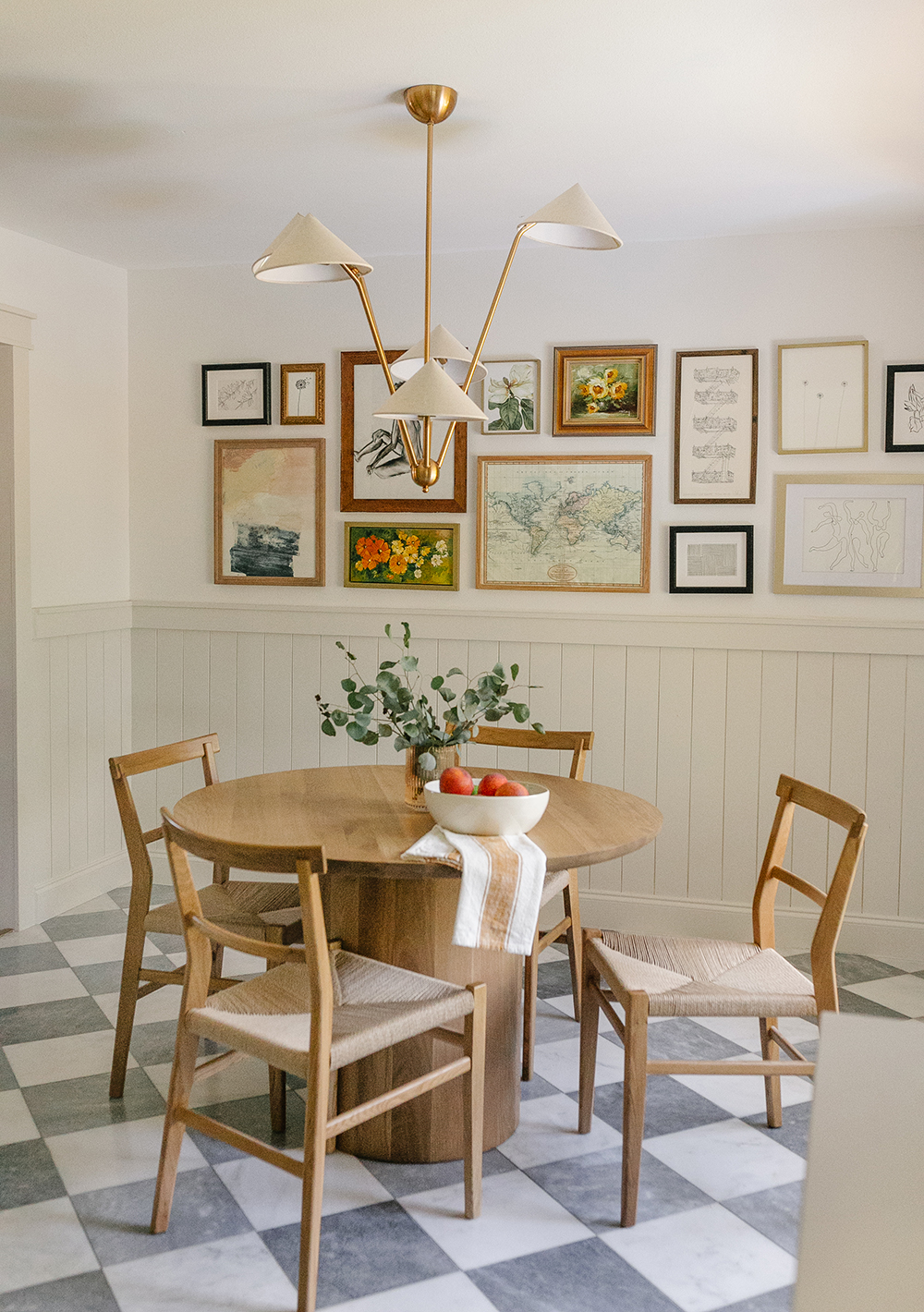 Here's the major stuff we changed: raised the ceiling a full 14 inches (which is also where our upstairs plumbing was located…which became our first major hurdle!), took out the L-shape cabinet with stovetop, removed cabinets and double oven to create a stove niche, replaced all windows, replaced flooring, extended cabinets to add a built-in pantry on the left, extended cabinets to fit built-in microwave on the right.
No detail was spared in the making of this kitchen…and I couldn't have asked for a more beautiful space to make so many memories as a family. I am the baby of five kids and whenever people ask me what my favorite thing about growing up in a big family was, I always say dinnertime around the table. It was such a sacred, special place for our family and memories I will forever cherish and hold dear. That is one thing I want for our kids, too.
We started renovating this space in January 2022 and it has taken a full seven months to complete. We hired a team to do tear out, tile and drywall, but everything else you see was done by Blake. He totally came to our rescue to finish this room and it's really special that there's a story at every corner. Before tear out ever began, I put so much time and effort into sourcing materials over a year ago – always on my phone or computer with a napping baby on my chest. That's the thing about doing it yourself, there is history and connection to every inch – which is so cool (more so now that it's over and my resentment towards the house has started to go away haha!). Between my sourcing and Blake's handy work (and amidst juggling jobs, two young children, rental houses, dogs, etc), I am soooo proud of us. Truly the hardest year of our life, behind the scenes it has been such. a. grind. We could have never anticipated just how much renovating would rock our world! But we did it! And thankfully it has brought us to this point, where we can finally relax and enjoy the heart of our home.
Alright y'all, let's get to the nitty gritty! Sharing sources and info below. I hope in my sharing you will support these amazing businesses that were wonderful and made this process easier! (There is one source I don't want to share because they were very unreliable – more on that below).
Cabinets: We ordered from Factory Builder Stores and these are the Bellmont 1600 Series, Invoke shaker doors in color Silvermist. If you're in Austin, CJ and Summer were who helped us and they were fantastic. Super knowledgable, thorough and just all around awesome!
Cabinet Hardware: All hardware we found at Rejuvenation. They have so many awesome options and the hardware is very sturdy and rich in color, we love it. Also their hardware tends to go on sale a lot, so if you're on the hunt, definitely keep an eye out for sales! Everything in our kitchen is Aged Brass: ball cabinet knobs, Greenwich drawer pulls, and Blair appliance pulls.
Countertops: Another VERY positive experience throughout a super challenging renovation was working with AAA Countertops to find the perfect light veined quartz countertops. Their showroom in Austin has so many amazing options and their staff (hi, Andrea!) couldn't have been kinder to us when we stopped by with both our energetic boys. I was torn between two options and Andrea was so responsive and helpful in figuring out what would work best in our home. There are so many things I never considered about countertops, like thickness, but after reviewing all my favorite kitchens I had used as inspiration, we went with 2cm. It turned out sooo beautiful. The dreamiest countertops ever! Lastly, their install team was so fast, concise and friendly. Highly recommend if you're in Austin or surrounding areas. If you're on the hunt for countertops and are interested in learning more about what the quartz we chose, you can reach out to their team here.
Backsplash: Be still my heart for 4×4 Zellige in Natural White by Riad Tile. I looked high and low for this tile and Riad had the best price and customer service. The tile is handmade and it looks it, a work of art on our walls! Something I also want to note is that we did a mitered edge on the sink side of the kitchen. It turned out sooo beautiful! We used Mapei Warm Grey for our grout and love it. I didn't want a major contrast when it came to grout, just something to enhance the natural variation and Warm Grey is perfect. (Special thank you to a kind follower who sent me a photo of their shower with this tile + grout combo, it's what sold us!).
Marble Floor Tile: Apologies in advance but this is the one source I do not want to share. Everything arrived late and some items missing, we were given the run around while trying to purchase and were ghosted after we paid for product. I would not wish what we went through with them on anyone! If you're looking for a similar style, Chris Loves Julia has a whole post on checkered options here. The funny thing is that even though it was the worst headache to finally receive the tile, it is my favorite part about the kitchen. Just stunning and makes such a statement, very durable, too! We ordered honed marble, half white, 1/3 light grey and 1/3 charcoal grey to add more depth and color variation. Sizing is 12×12 and we ultimately decided on a diamond pattern and I LOVE it! Grout we used is Silver by Mapei and it compliments the marble perfectly, plus hides dirt well.
Stove/Oven Range: The range that inspired our kitchen! I have adored ILVE ranges from afar for a very long time, and when I learned they sell electric ranges, there was no looking back. Our neighborhood doesn't have a gas line, so I was looking for an electric option. We ended up choosing the ILVE Majestic II 30″ in Antique White and wow, jaw dropping beautiful. It cooks SO well, too. Blake and I have been amazed at how nice this range is! It's truly the focal point of our kitchen.
Pot Filler: Another thing I have always wanted in a dream kitchen: a pot filler! This one was backordered for nearly a year but we finally got it! It's the Kohler Artifacts Potfiller in Brushed Brass. The color is super rich and gorgeous and we use it a ton (special thanks to our toddlers who love pasta for every meal haha 😉 ).
Kitchen Sink: We had a cast iron farmhouse sink at our old house and it was my very favorite part of the kitchen. It added so much warmth and coziness! We ended up going with the Kohler Whitehaven Farmhouse Cast Iron Sink in White, 30″ and it is so so so beautiful and functional. Highly recommend!
Kitchen Faucet: Clearly we're Kohler fans in this house! Their products have great warranties and according to reviews online, are very durable and hold up well over time. I knew a pull down sink faucet would be the most functional for our family and given the traditional feel of the kitchen, we went with the Kohler Artifacts Pull Down Faucet in Brushed Brass. So far, we love it!
Disposal button: Our Air Kit was a total lucky find by Blake on Amazon and it was $30!!! Matches our Kohler brushed brass products perfectly. Works great, too!
Wall Sconces: I wanted something minimal but a little more design-y and the Lupe Scones by Mitzi are perfect. I'd seen these in a handful of my favorite interior designers clients homes and always loved them. Great price, too!
Windows: Another favorite purchase that totally elevated the kitchen was changing the windows. We ordered the Andersen A Series picture frame style for next to the dining room, and 3-panel window with grids for above the kitchen sink. The two grid windows are actually casement style, so you can wind them open. SO DREAMY! The windows are super high quality, thick and will provide much better insulation than our old windows. Eventually we want to replace the rest of the windows in the house with A-series, we love them so much!
Linen Roman Shade: I had scoured window treatment options for weeks and every quote to cover this window was over a thousand dollars…which felt so defeating since I loooove a classic linen roman shade. One of my followers recommended I try Etsy and she was spot on! Our linen roman shade was less than half the price of big name brands, and the quality is amazing. This is the Relaxed Roman Shade in Dune (sheer with cotton backing) from Aspect Creative Agency on Etsy – lovely seller and super helpful and thorough with the whole process!
Floating Shelves: Another amazing Etsy find, these are solid wood Custom White Oak Floating Shelves by UltraShelf. Very high quality, solid and sturdy. Easy to mount, too. We loved these so much next to the windows that we actually changed out the range spice niche to include a couple more. We are big fans! Super nice shop owners, too.
Dining Table: I knew a round table would be really fun for the dining space and we didn't want anything overwhelmingly big since our boys run around (hitting heads is not fun!), so finding the CB2 Spindler Round Dining Table in 45″ felt very serendipitous! This size is quite challenging to find in a white oak color. We looove this table, it's a beauty and has held up so well for us.
Dining Chairs: Another item I searched high and low for. I didn't want it our chairs to feel lean too country but I also wanted to make sure they felt home-y enough, you know what I mean? 😉 Ohh the things I agonized over while sourcing materials, ha! We ended up settling on these beautiful Anthropologie Oak Farmhouse Dining Chairs and wow, they are perfection! Comfortable, gorgeous and very durable.
Dining Light: And last but not least, THE Amber Lewis x Anthropologie Mantis Chandelier. I pined over this light ever since this collaboration hit the internet, but the price just wasn't in the cards for us. Then in March I woke up to birthday money hitting my Venmo from family and friends and instantly, I knew where that birthday money was going, ha! (I also sold some stuff on FB Marketplace, a joint effort haha!). This light fixture is a piece of art in itself, totally mesmerizing and incredible!
Paint: Our house has two covered patios (front/back) and is shaded by all the oak trees, so when finding the perfect white for our walls, we opted for something bright that leaned cooler (warmer whites leaned too yellow given the light amount in our house). We ended up finding Silky White by Behr and it is so beautiful! Adds so much brightness but feels cozy, too. We wanted a lightly contrasting neutral for trim, baseboards and shiplap that would compliment both the green cabinetry and white walls, and Cotton Knit by Behr is the perfect addition! For both we did: eggshell enamel finish. For the ceiling we used standard ceiling paint.
——
I think I covered everything here! If there's something I missed, feel free to comment or message me on Instagram. The biggest THANK YOU to all of my readers who have cheered us on throughout this challenging renovation. You have all been beyond supportive and kind, and it has been so appreciated!