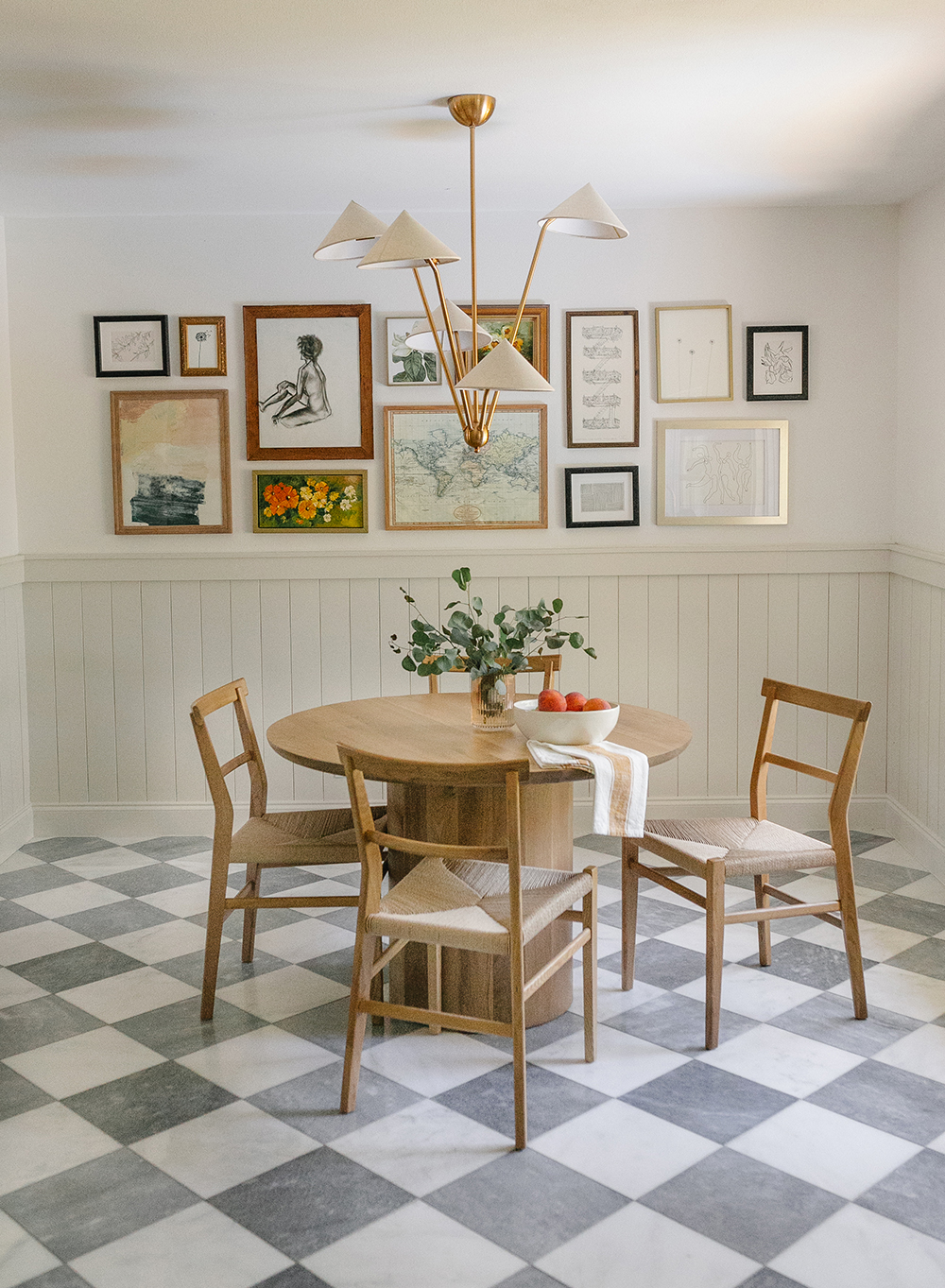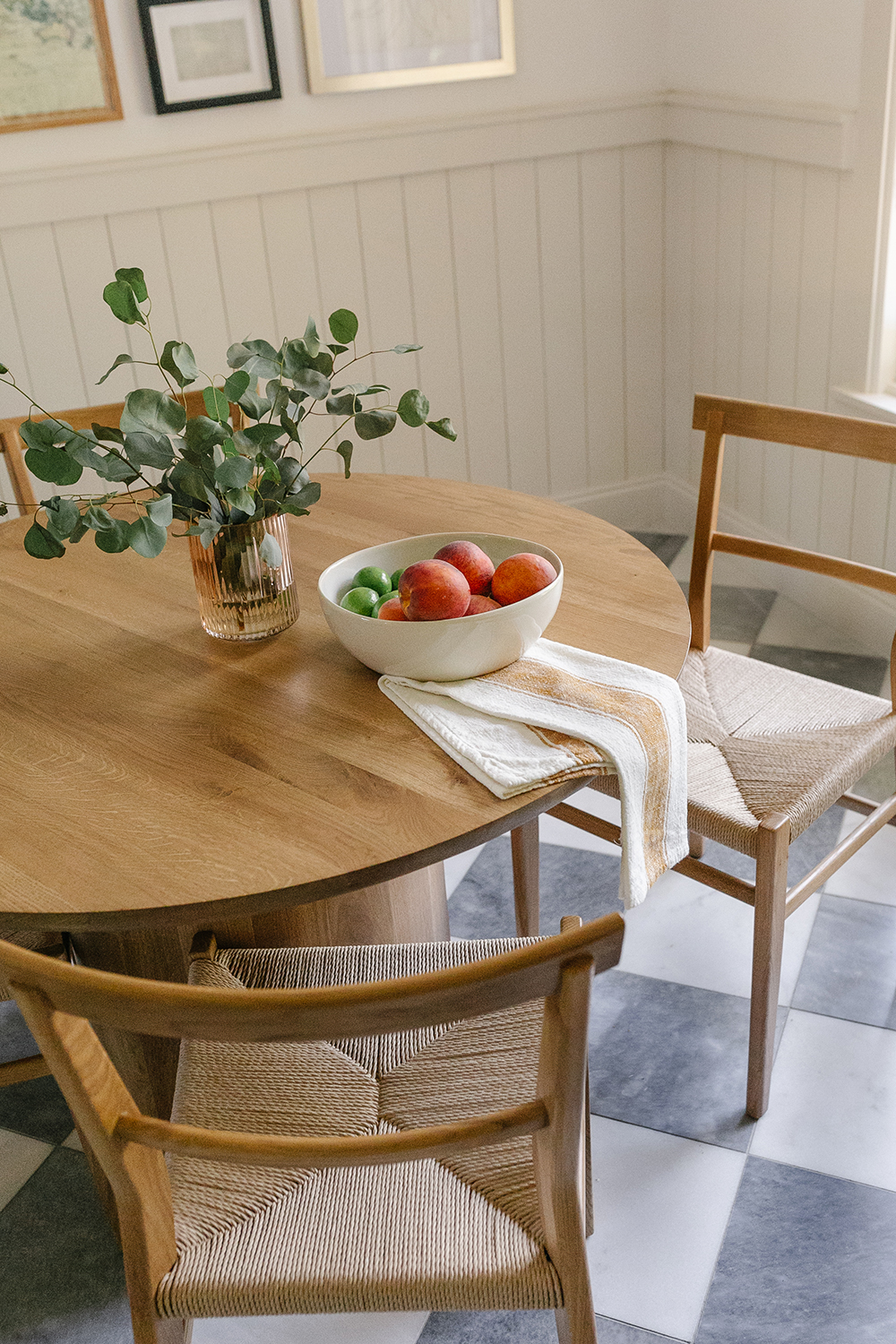 Hello and welcome to our dining room! There are many favorite parts of our kitchen, but this spot is high on the list. From the light oak against the checkered marble floors, to the gallery wall filled with art we've collected from friends, family and travels around the globe and a view of giant oak trees through an oversized picture frame window…as with everything in this kitchen, every inch was obsessed over and thought out. I think it turned out better than I could have ever imagined!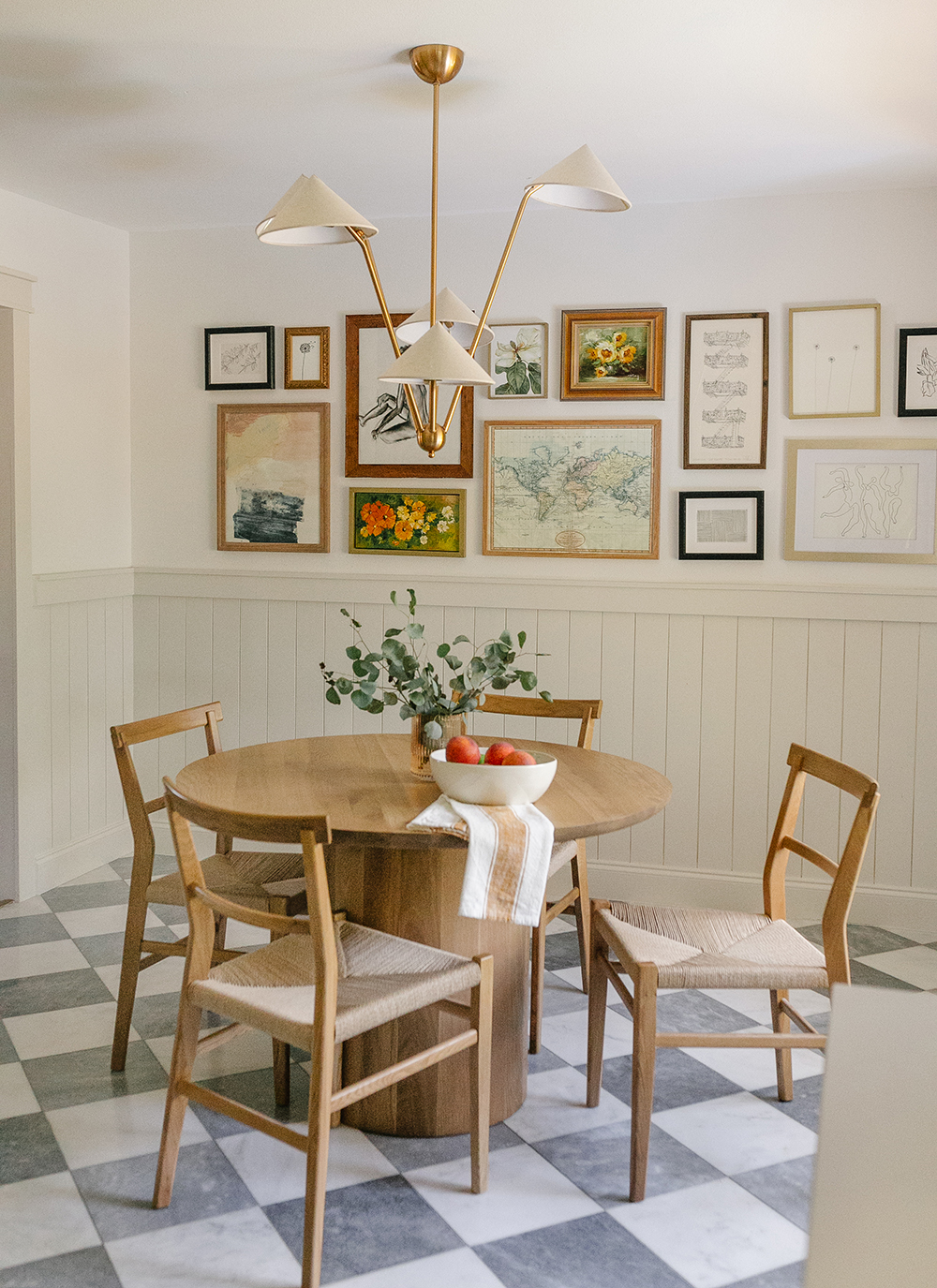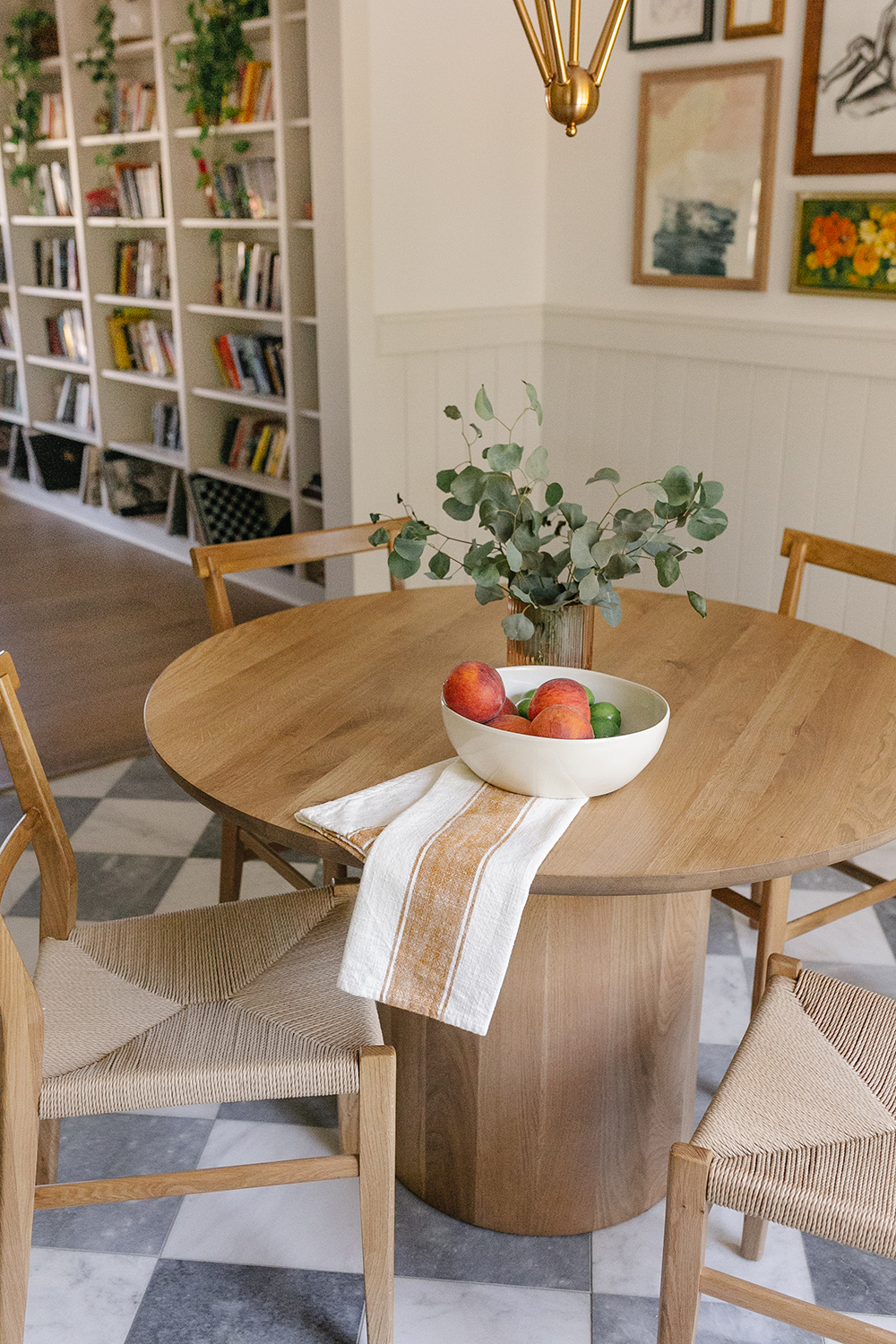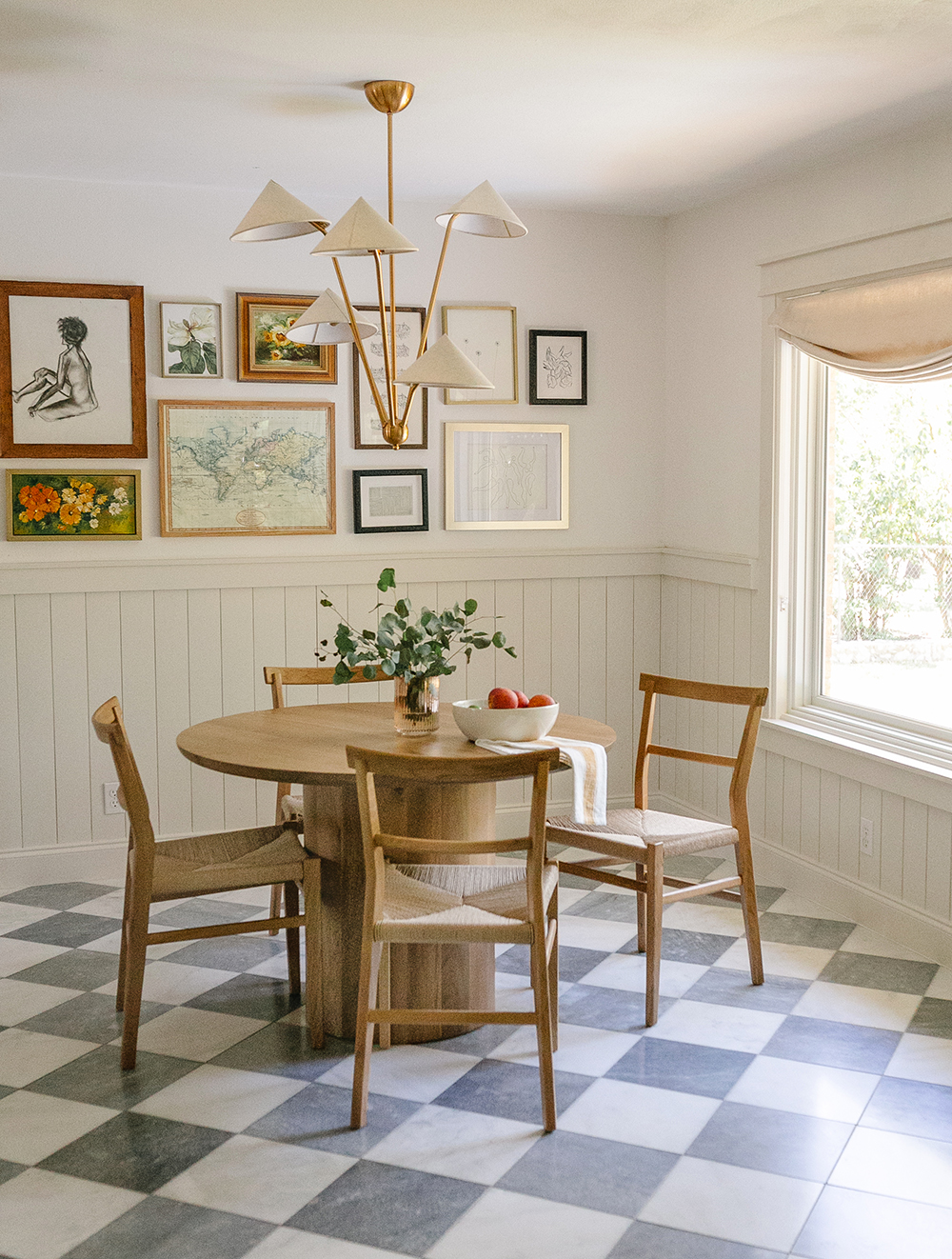 If you read my kitchen reveal post, you know I always envisioned a round table at the head of the kitchen. Round felt modern yet cozy, and we needed something smaller that would comfortably seat a family of four since we still wanted our boys to be able to run in circles through the kitchen. Writing that sounds pretty funny, but it's the truth! Our downstairs is open throughout so they like to chase each other around and around…we didn't want any little heads hitting a tabletop! The task of finding a white oak table in the right size was quite challenging…most options were gorgeous but too grand for this area. Finally I found the Spindler Round Dining Table from CB2 and we were sold. It's 45″ which is a perfect fit!
Finding chairs that didn't break the bank was…hard, to say the least! I had my eye on a few options from Target, but their white oak color can lean too yellow and we wanted a perfect match with the table. The Oak Farmhouse Dining Chairs from Anthropologie were my absolute favorite from the start, but Blake needed convincing (at this point in the renovation, money was just being thrown into a fire…ah! So I get it!). After putting a few options together for him, he finally said let's just do the Anthro ones and I was sooo excited. They came completely put together and they are sturdy and STUNNING! So so happy with them.
Amber Lewis is one of my favorite interior designers (as she is for so many of us!) and I have always adored the Mantis Chandelier from her collection with Anthropologie. It's truly a work of art! Again, the price point wasn't really in the cards for us, but in March I received birthday money hitting my Venmo from friends and family (also this has never happened and now I know is a very fun birthday gift to receive haha!) and immediately I knew where it was going! I'll never forget this memory because it was so exciting…but we were staying at our second rental house and Blake had left to go feed and let out the dogs after the boys went to sleep. I rarely have a second glass of wine but in the spirit of buying a dream product, I felt it was a good time for it. 😉 My boys were safely sleeping, my buzz was buzzing and as soon as I hit purchase I literally got up and danced. This renovation was so incredibly hard and stressful for many reasons, but in this moment I was blissfully happy and weightless. A rare feeling! Anyways, wanted to write that moment down so I don't forget…as it was a good one!
Lastly, our custom roman shade is from Etsy and it's as dreamy as it appears! Flax linen in the Dune color, sheer with cotton backing. This is a large window and the big name window treatment brands were over a thousand dollars…I just couldn't stomach that (especially if Ezra decides to throw his spaghetti on a whim, ya know? This is the stuff we have to consider here haha). This Etsy store had amazing reviews and less than half the price of other brands – the shop owner was wonderful and the shade is gorgeous! Highly recommend!
I think maybe eventually we'll add a rug under the table, but for now it's an easy cleanup with two messy eaters! We love this part of our home, it feels so good to sit down together and enjoy a meal in a beautiful space! The kitchen was a dark cave for two years (see before photos here), so being able to live in a bright, airy, cozy space makes a world of difference!
Thanks for stopping by to see, means so much. xo